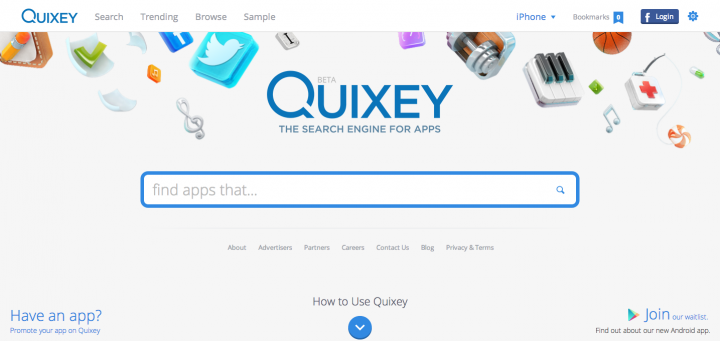 Chinese e-commerce giant Alibaba has invested $50 million into mobile app search engine Quixey, the California-based company announced last night.
The investment marked Quixey's series C round of funding, which, in addition to Alibaba, also saw funds from Beijing-based WI Harper, along with a handful of other investors from the US and UK
According to Quixey CEO, the investment "ensures that [Quixey] will continue to expand globally."
Alibaba already has a history in investing in US-based companies. In August 2010 the company acquired Vendio, a sourcing platform for small businesses that connects buyers with suppliers, not unlike Alibaba's original business in China. Later, in 2011, the company purchased Auctiva, a tool that helps help small businesses manage e-commerce sales.
In addition, this year Alibaba made two more investments in US e-commerce firms. In May it contributed to a $170 million funding round for sports merchandise online retailer Fanatics, and in August, right in the thick of its IPO flirtations in Hong Kong, it bought a $75 million minority stake in e-commerce platform ShopRunner.
Of course, one of these things is not like the others – Quixey is a search engine for app discovery, not an online retailer (its purchase links direct users to iTunes or Google Play), and it deals in apps, rather than concrete goods. Alibaba – like nearly every other Chinese web player – has an Android app store of its own, but it's not clear if the Quixey funding will have any impact on that. But since Alibaba is a company and not a VC firm, surely it shares some strategic interests with Quixey.
Alibaba is currently transitioning away from its reputation as (crudely put) "the eBay/Amazon of China" and towards that of a tech giant with a wide reach over the Chinese internet. This is perhaps best exemplified by its $586 million dollar investment in the Chinese social network Sina Weibo.
Many analysts were waiting for Alibaba to make an IPO in Hong Kong this Autumn, but those negotiations foundered due to issues surrounding Alibaba's management structure. The company is said to have since shifted its attention to the New York Stock Exchange.
(Editing by Steven Millward)