Mobile advertising agency ad2c officially opened its regional office in Indonesia yesterday. The company – which comes from a joint venture between Singapore's Affle Group and Japan's D2C – first started up in India last year. The company hopes to help grow the mobile advertising industry in Indonesia, which is still very small compared to other more developed nations like Japan. How much is Indonesia's spending on mobile ads? Less than one percent of the country's entire ad spending.
We spoke with ad2c co-founder and managing director Madan Sanglikar about what kind of ads Indonesians expect to see now that the company is here. He said that the company will definitely bring ads to all mobile devices – so that includes feature phones.
Explaining the strategy to advertise to feature phone users, Madan says this includes triggering these users to make calls to the advertising companies. In India for example, ad2c promises a certain social charity effort – perhaps like building a well in rural areas – for every pledge people make by calling the company. These calls are free to make, and after people make their pledge, then the company can ask callers to listen to a promotional offer. I don't think we've seen this kind of strategy put in place in Indonesia before.
One other example given by Madan is more familiar to Indonesians, which is value added services (VAS). If ad2c sees that it's important to offer VAS such as football updates three times a week to Indonesian users, then ad2c can approach other parties like Nike or ESPN to help build the VAS content first. And then after the company delivers a few such VAS to Indonesian phone users, a sports-related ad will be played. The same model works for feature phone users in rural areas, but perhaps with different content.
Madan stresses that the company will only use advertisements that are relevant to the target market – and also ones the company thinks will be interesting for them.
Partnerships with XL Axiata and Yahoo Indonesia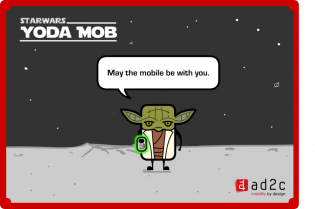 During the ad2c press conference, there were also people from Yahoo Indonesia and telco XL Axiata on stage. Though ad2c works on all mobile carriers, XL Axiata was the first carrier who jumped onboard with ad2c, and Madan explains that XL Axiata will be more open in sharing its data with ad2c due to their collaboration.
As for Yahoo! Indonesia, Madan explains that ad2c has previously collaborated with Yahoo India, and is now bringing that partnership here to Indonesia. ad2c helps Yahoo promote its products within ad2c's services, and in return, ad2c uses the various Yahoo platforms to promote ad2c client products.
All in all, Indonesians can expect to see more ads thrown in their faces from their mobile devices – but hopefully relevant ones. For advertisers, this is one major new option for reaching people on their phones.