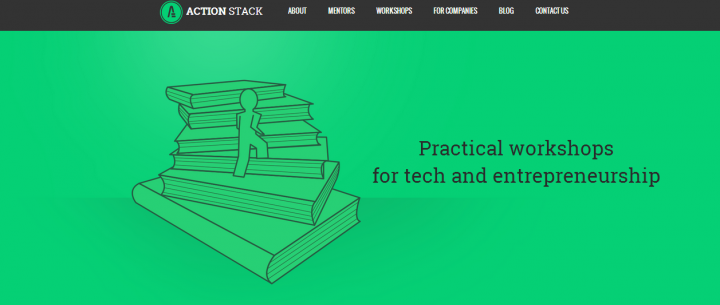 There is a gap that needs to be answered in the tech education sector in the Philippines, and a new education startup, Action Stack, has emerged to address this void.
Launched in January, Action Stack is an avenue for Filipino individuals – students and professionals alike – to gain more knowledge on tech entrepreneurship through workshops. It has gathered 21 mentors, a mix of startup founders and tech experts , who share their knowledge and experience with the tech community.
Applying theories
Action Stack cites how fast Filipinos have embraced technology as a reason for its emergence. According to We Are Social the Philippines now has 37 million internet users. However, most engineers in the country are self-taught. This is because schools and universities fail to provide the adequate training students need for a professional career.
Action Stack founder Walter Wong has a passion for helping people learn. He started his career as a lecturer at Ateneo de Manila University, and is a founding member of Teach for the Philippines, a recruitment hub for young teachers. He says:
The education gap in tech and entrepreneurship is horrifyingly real. I've seen different parts of our educational system and our talent pool, and I think there's still a long way to go in addressing the challenges of businesses in the digital world.
According to Wong, there's a lot of theoretical discussion in classes but not much exposure to actual practice. As a result, the country lacks a pool of qualified talent in the tech industry.
Other mentors in Action Stack agree. Some of them admitted to having learned computer coding and app development on their own. Matt Quiros of Philippine classified ads site Sulit, one of the mentors of the startup says:
Even though smartphones were already gaining popularity while I was in Ateneo from 2007 to 2011, there were surprisingly no classes offered on mobile app development. So I taught myself how to build Android and iOS apps in my spare time.
Knowing the market
Action Stack currently offers practical, hands-on workshops and short courses on a range of topics related to technology and innovation. Right now it has six workshops scheduled for the next two months.
The first of its six workshops, Digital Marketing for Real Estate Professionals, has now gained over 30 registered participants. Future workshops will likely be around the same size, as the founders think that small group settings are better for hands-on learning.
These first few months will be an exploratory period for the startup, says Wong. As it tests out its courses, it aims to have a better grasp on market demand, and on what topics and courses the people are willing to sign up for. In the future, it will also consider putting courses online so they can reach a wider audience of Filipinos.
(Editing by Josh Horwitz)