In the taxi here in Beijing, radio hosts are discussing the publicity and price war between 360Buy, Suning, and Gome, three of China's top electronics e-tailers. In the subway and in cafes, I hear people talking about it. And of course, the topic has gone wild on Weibo and among the media and blogosphere. On the radio, 360Buy CEO Liu Qiangdong claims that 360buy has nothing but money to spare to support this e-commerce price war. He also commented that as an e-commerce company, he could refresh the prices every 30 minutes, but brick-and-mortar shops like Suning and Gome probably can't match that speed. (Note that Suning and Gome have e-commerce ventures too).
But have the prices really changed? Yes, but not greatly. If you check around the weibosphere, some folks are dubious of 360buy prices. This Weibo user, for example, questioned 360buy's iPad prices (translated):
Didn't you [360buy] say that your products would be 10 percent cheaper than Suning's? Why is Suning's iPad 140 yuan cheaper than yours!?
One place to compare local prices is eTao.com, Alibaba's price comparison search engine. As if this is some kind of Olympics, eTao is amusingly tracking each product's prices and "awarding" each B2C e-commerce site gold, silver, or bronze for the top three lowest price points. So who is winning this battle? According to eTao's leaderboard, Gome's overall offers are cheaper then 360buy's and Suning's. But the cheapest of all (according to the number of gold medals) is Amazon.cn at the time of this writing. So yup, none of the folks who started this price war is winning it, for now, in eTao's eyes.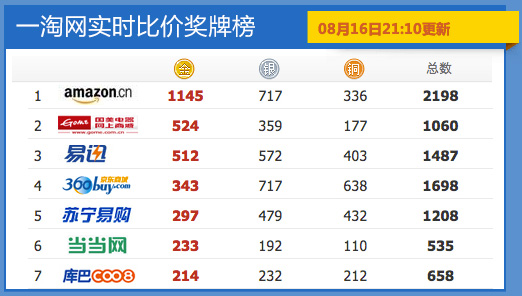 Now, back to reality. Seeing this from a outsider's point of view, the price war feels a little awkward, though a little fun at the same time. It doesn't take an extreme skeptic to doubt if all this is just a publicity stunt by 360buy or even one performed together with Gome and Suning. This Sina Weibo poll suggests that a large group of netizens are indeed suspecting that this is a joint act. The price war could have some detrimental effect on all the companies' bottom-lines. But if that's in the name of publicity, then it could still be a worthwhile investment. But this Weibo poll seems to suggest that the price war has the potential to generate negative publicity for all three companies, too. And perhaps the winners could be Amazon, eTao, and other product search engines, who are smartly riding on this frenzied wave to show their price comparison capabilities.
And while getting all muddy on this price war. I do hope that all these price cuts don't translate to sub-par customer service or product quality. Because that would be dumb. It's encouraging to see Chinese consumers and netizens paying attention to this price war, and doing so with scrutiny. But beside the price tag, I'm pretty sure that consumers are also concerned about the quality of the service and products. One Weibo user has had a bad experience, as suggested by his comment at Liu's message (translated):
While you're an entrepreneur, please kindly deliver the orders on time. If your orders are late, then that's not at all a competitive advantage.
That Weibo message sums things up pretty well. It would be nice to have a battle of who provides the best customer service too. That, in my opinion, would be something really worth watching.