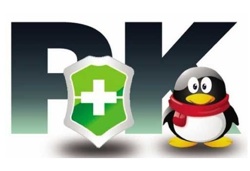 Three companies related to Qihoo 360 (NYSE:QIHU) have to apologize to Tencent (HKG:0700) and compensate it 400,000 RMB (US$62,530) for slander and unfair competition, according to a Beijing court verdict yesterday. The so-called "3Q War" between 360 and QQ is finally over.
Both Qihoo's 360 Security suite and Tencent QQ are enormously popular pieces of software in China – 360 for anti-virus; QQ for IM and social gaming. 360 Security grabbed huge market share by promising to be free of charge forever. The controversy flared up last year when Tencent released its QQ Doctor app – as a free supplement to its IM app – which threatened some of 360's core interests by promising to scan user's computers for malware for free.
And then things got ugly last autumn, when Tencent updated and revamped QQ Doctor to become the QQ Computer Manager. It was done somewhat stealthily, and suddenly Tencent's app was now a direct 360 competitor. But alarm bells rang nationwide when some claimed that the new QQ Computer Manager app had the ability to scan and read – and maybe transmit – any file on your computer, even when it was not running. In response, 360 released its own app within just a few days, called QQ Privacy Protector, which claimed to thwart Tencent's new app. Its interface showed, with big red labels (pictured below), files on a user's computer that it claimed had been accessed by QQ's newest anti-virus app.
In late October, Tencent posted a statement on its corporate website denouncing 360's "unfair competition." They wheeled in some big-hitting buddies as back-up, as it was jointly signed by Baidu, and anti-virus firm Kingsoft, among others. Then 360 released QQ Bodyguard to prevent totally the scan action of the QQ Computer Manager.
The conflict escalated to its ultimate peak on the 3rd of November last year. This time Tencent responded fiercely, claiming QQ (the entire IM/social app) wasn't compatible with 360, and showing users who had both apps installed a pop-up message (pictured right) telling them they had to uninstall 360 Security Guard. With the intervention of authorities at this point – with the controversy now making national news, and even getting some international coverage – the conflict stopped quickly. It's not clear if the claims against Tencent's app – that it could read sensitive user files – were true or not.
Millions of netizens were involved in this confrontation, as they saw two web giants bickering publicly, and as their own computers showed pop-ups denouncing the opposing company. It was all pretty weird for a few weeks. Unfortunately, both companies disregarded netizens' interests in the whole kerfuffle. But now that anti-virus war is over, and 360 has to cough up the compensatory cash.
The Qihoo vs Tencent rivalry is not all finished, of course. Now Qihoo has its own group messaging app to compete with Tencent's Weixin, which launched last month. Hopefully this new arena of competition between the two will not turn ugly as well.
[News source: CNBeta; with background history from Baidu Baike]