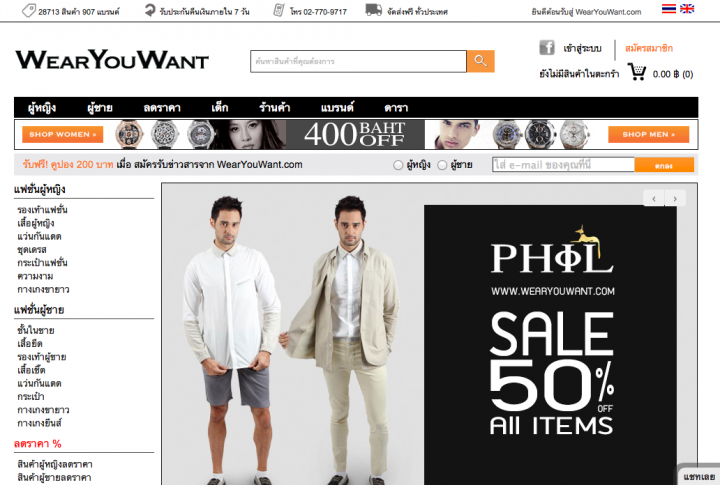 Inspired by Miinto, WearYouWant is a B2B2C fashion e-commerce site. The site was founded back in 2011 with just one developer, one sales manager, and two founders, Julien Chalté and Martin Toft Sørensen. The site has received good feedback and has grown significantly so far. Now, it is thriving and is ready to launch an updated version of its site this week that will come with new features.
Back in February, WearYouWant, backed by DMP and Asia Venture Group, only had 15 staffers, but now the number has grown to 20 and it will be 21 by the first of September. It's now working with 900 brands in total with over 25,000 different products. WearYouWant charges brands THB 15,000 ($500) upfront and it also receives a 20 percent commission as the source of the company's income. But for bigger brands such as Beauty Buffet, Karmar, DKSH, etc, it receives 30 percent commision with no upfront payments.
Julien told Tech in Asia back in February:
The Thai people are getting more and more educated in the use of new technologies. We felt an increasing demand for finding a larger variety of products online, so bringing end-users from all over Thailand in touch with the "Fashion Mecca" that is Bangkok became a necessity
Martin also confirmed that statement recently:
It's been quite easy to make the fashion industry get what we're doing and to get them online. They know it's mandatory for them to have an online presence. In the last year, more boutiques contacted us without us going out. We make sure that we have the best platform out there serving the niche market. We offer an e-commerce platform to brands with only offline experience.
Trust issues
Although the site is doing well now, Martin admitted that in the first six months WearYouWant had issues with conversion. It was due to a lack of consumer trust, as WearYouWant was a new company.
In the past six months, the user mentality has changed, and the same is true for brands. WearYouWant has started to get good and well-known brands such as Onisuka Tiger and Converse. Actually, for Converse, WearYouWant is the only Thai website that officially sells the brand online.
Cash on delivery
WearYouWant doesn't offer C.O.D. right now but the company is aware of its potential. Of course, it is considering this option due to the potential volume of new business it could generate, especially for people in the upcountry as they don't know how e-commerce actually works and they don't want to pay for anything up-front. However, the company is still skeptical, as while C.O.D. might bring in bigger order volume it also brings in a higher return rate. Product returns are definitely bad for revenue as it takes time to deliver the products back to customers. It's even worse if they want to get a refund.
Strategic partnership
WearYouWant agrees there are strong competitors out there – such as Rocket Internet's Zalora – and that's a big challenge.When others see the potential of this market, the bidding for keywords goes up. That means the marketing budget for the company has to go up, too.
Thus, the company has been working hard on finding an alternative way to boost up the site traffic. Creating strategic partnerships was one of the answers.
WearYouWant now partners with banks in Thailand such as SCB, KBank, and Krungsri and also a telco company, True, to offer the partner brands' customers with special discounts and promotions. This has been the main focus for the company for the past couple of months.
Also, starting with KBank and Krungsri bank customers, WearYouWant will be offering an installment option (0 percent interest for 10 months) – the same way Reebonz does. This new offer will come live within next week when the website new design also goes online.
The new design website will also feature a new function – celebrity interviews. Right now, it already has a section featuring celebrities, but the updated site will have funny videos of celebrities talking about their fashion choices. This is something, Martin believes, none of the other competitors have and he hopes it will bring traffic to the company's blog.
In addition, in a month from now, we might be seeing a WearYouWant app for iOS.
(Editing by Charlie Custer and Steven Millward)

Facebook Conversation
comments