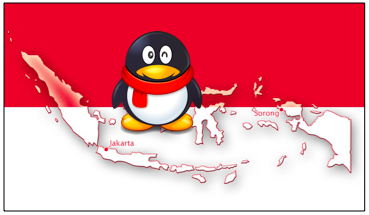 CyberAgent's Net Impact Jakarta conference yesterday had a fun mixture of Japanese, Vietnam, and Chinese Internet companies. Among them was Tencent, whereby Sean Zhang, director of Tencent's Mobile Global division, shared some background information about Tencent and also briefly spoke on the company's plans to engage the Indonesian market.
Yes, you read that right. Tencent (HKG:0700) has set its eyes on Indonesia. In fact, Zhang shared on stage that Tencent already has a team of ten in Indonesia and is looking to hire more as it expands its operations.
Smartly, Tencent noted that Indonesia is very much a mobile centric nation. The Chinese internet giant is thus planning to introduce the QQ browser (we reviewed the mac version here) and also a Whatsapp-like mobile app, Qute, to the Indonesia market.
I was actually puzzled why Tencent chose to bring in Qute rather than Weixin, a popular group messaging app in China, owned by Tencent. I threw that question during Q&A and got an interesting answer.
Zhang explained that Weixin is mainly used by high-end smartphone users who are on Android or iPhones. While Qute can be used for feature phone users, which constitutes a large group of people in Indonesia, where they can enjoy group messaging services even without data plans. That group messaging app resembles Pinch, a solution developed by Affle.
It is a pity that we couldn't find more time with Zhang to learn more details on Tencent's plan in Indonesia. But both of us agreed to meet again soon. Coincidentally (or unfortunately for him), we are staying in the same apartment complex in Jakarta which makes meeting up way easier! Stay tuned!

Facebook Conversation
comments