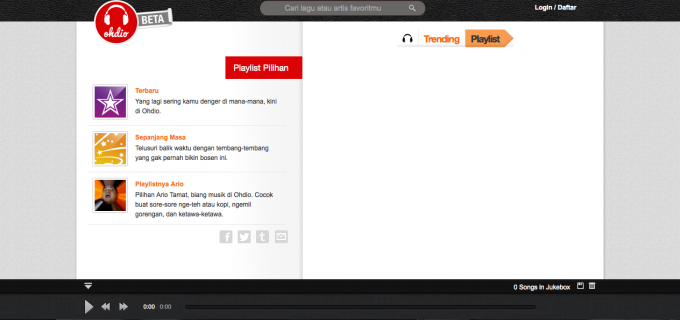 Ohdio is a startup from Indonesia that wants to disrupt the domestic music industry by offering an online music streaming service. It's available only for web right now, having gone into live beta just a few days ago.
As an online music streaming service, Ohdio works like YouTube for music. You can play any song in its database anytime without installing any app. To use Ohdio, you need to sign up first, after that you can add songs to the 'Jukebox' and just play them.
After exploring the service, I noticed the collection isn't really complete even for recent songs (where's my Sheila on 7?) as they have only worked with three major labels. But Yoga Nandiwardhana (the founder of Ohdio) and his team are working on it. So for now you can play some songs from Dewa 19, or if you are in your 30s you might prefer Katon Bagaskara. What about Western music? Or Korean? Yoga said that they are focusing on Indonesian music for the time being.
For the interface and user experience, I like Ohdio because it is clean and easy to use. The search bar is also prominent so users won't have much trouble searching the songs. So is Ohdio trying to be the Spotify of Indonesia? Yoga Nandiwardhana, the founder and CEO of Ohdio answers:
We're not trying to be the something-something of Indonesia, really, because we believe that Indonesia has a unique music listening and online behavior, so applying some foreign concept directly to the local market just won't cut it. For the freemium model, let's put simply that we will give some more enjoyable experience to paid users. We only allow people to put two songs in their jukebox to be played without registering, since we're in beta mode, we'd like to get people to get the experience first. If you stick around for a little longer, you'll find out that you need to register to explore the service. For the official launch and mobile app, I cannot disclose that yet.
The company received investment from East Ventures [1], so I think Ohdio will have a good chance to build the music library and scale the service. Many Indonesians are waiting for this kind of product, but at the same time I wonder how much easy it will be to convert free users into premium ones.
---
Disclosure: East Ventures is an investor in this blog. Please see our ethics statement for more information.  ↩

Facebook Conversation
comments