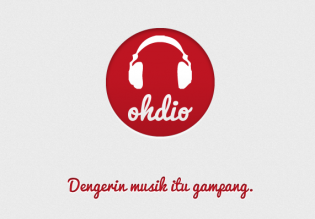 This just in. East Ventures [1] has invested in Ohdio, an Indonesian startup that promises to provide users with access to seamless streaming music. Whether you're at home, on your mobile, or at an internet cafe, Ohdio aims to bring you your large library of songs through a browser.
The service is free but can only be used by Indonesian users. Ohdio also promises to offer premium services with additional features, although they didn't explain much in their announcement. The service will launch on June 14 on an invitation only basis. If you want in, simply sign up at their homepage. I'm not sure what to expect, but it will be interesting to see when the day comes.
It is an interesting idea, somewhat similar to Spotify but localized for the Indonesian market. Spotify uses a client while Ohdio says it will deliver music through the browser. Interestingly, Spotify isn't available in Indonesia which makes the service somewhat unique in the country. There is also Melon.co.id which allows Indonesian users to purchase digital music online. iTunes, as I understand, can't be used if you register it through an Indonesian account. But I'm curious how Ohdio is working with music artists to ensure a win-win situation. An Ohdio rep, Ario Tamat, noted:
We use a freemium business model, and we hope to beat international players to the market. Currently we are focusing on Indonesian content first, and we have agreements with most of the larger local music labels (i.e. Aquarius, Trinity, Nagaswara, etc).
It almost sounds a little like Grooveshark in some ways, although we'll have to wait until it launches to see exactly how Ohdio shapes up for music fans in Indonesia.
---
Disclosure: East Ventures is an investor in this blog. Please see our ethics statement for more information.  ↩