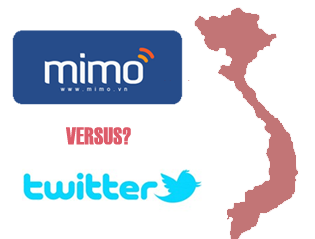 In September 2012, I stood in front of an audience of over 700 people at Barcamp Saigon and asked "Who uses facebook?" Everybody's hands shot up. But when I asked "Who uses twitter?", 20 percent of the room put up their hands and the rest of the people chuckled. Twitter hasn't gained traction in Vietnam, even among the local geeks.
Just south of here, Jakarta is the number one city in the world on twitter. Nearby, the Philippines is ranked 10th in the world for using twitter. All across, Southeast Asia, where there are many young and mobile web users, twitter is loved, but not in Vietnam. The third-largest country in the region is sort of twitter-less. What's going on?
To really get at the heart of this, I sat down with the COO of Mimo.vn, the only company that still plays a significant role in microblogging in Vietnam. With 2.6 million users across SMS, mobile and desktop web, and mobile apps (for iOS, Android, Nokia, QT, and Windows Phone) Mimo has the most expertise on what would make or break a microblogging service in Vietnam.
The Mimo team started in 2009 with Huy and the current CTO. They loved twitter and funded the project themselves with a few angel investors. By mid–2011 they had released a public version of the service and had shown steady linear growth. Today, Mimo is looking for its tipping point.
Not a social network
Facebook, which has experienced its own tipping point in Vietnam as it zinged past Zing, might present a problem for Huy and his team. Despite its doubling numbers, Huy isn't phased, he doesn't see Facebook as a competitor and sees Mimo as a content service rather than a social network. The barrier for this model in Vietnam is that users don't have the habit of producing content. Therefore, Mimo's content curation team actively watches user behavior and pushes relevant data to them. Mimo had to populate its service with content before users took an interest. It has been important for Mimo to develop relationships with celebrities and content producers. YanTV, for example, tops the Mimo charts with over 1.7 million followers, and Ha Anh, a Vietnamese model and singer, has over 30,000 followers.
What Huy sees is missing in Facebook is the one-on-one interaction that users can get on Mimo or Twitter. Users can interact directly with celebrities and get responses from them. Facebook pages are generally one-way content streams where celebrities post their updates and users can Like or Comment but celebrities don't usually respond. Huy sees this as a completely different experience. Microblogging allows for considerably more intimate interactions.
The problem with this model is that it hasn't been communicated by Mimo nor Twitter yet. When I asked a group of Vietnamese friends why they don't use Twitter, they all replied that they already had a Facebook account. Microblogging is seen as a social network and the success of Mimo is going to depend on how it can change the perception of users or adapt to the environment. Facebook has also been more active about bringing news into users' newsfeeds. Culturally, the concept of 'unfollow' as popularized by twitter may be too harsh for Vietnamese people who are reluctant to show someone they don't like them.
A fragmented online space
Huy doesn't see this as a key problem, there are other fish to fry:
At first, when Facebook started getting popular, users felt it was clunky coming from MySpace, but eventually they adapted.
The problem lies elsewhere, one barrier (or a potential one) that Huy sees is the fragmented nature of Vietnam's online space. Just as the mobile OS market is distributed across 3 major platforms Vietnamese people are accessing the Internet on laptops, tablets, desktops, and mobiles. No main mode dominates. Hu adds:
You're seeing people connecting online for the first time through mobile phone or tablet, and their experiences and expectations are much different than those of an experienced internet user. But even on those individual experiences, there is tremendous diversity.
This just might explain Vietnamese users' reluctance to willfully generate content and thus not take up microblogging as other countries have.
Taking this into account, Mimo has been aggressive about making sure their service is multi-platform. This is certainly one of their competitive advantages in a country where more people are using feature phones rather than smartphones. SMS is one of the services that they love to tout and is certainly an advantage over their global competitor, Twitter. In fact, a person who updates on Mimo can have their updates sent directly to an individual's SMS. But how long will this advantage last? As smartphones continue to catch on, Mimo's advantage over twitter ends. The early adopters in Vietnam's market are also urbanites who are keen to try out new services. This same is not so true in the countryside where most people are just using SMS to connect with each other on a day-to-day basis rather than getting news updates on their phones.
When will tweeting catch on?
Mimo's main differentiators are its content curation and its SMS platform with over three million SMS outbound per month but its biggest difference from Twitter is the environment. Twitter grew up in an enthusiastic Silicon Valley, hungry to share and try out new platforms. According to Huy, Mimo's success and the success of startups throughout Vietnam has been dependent upon lots of funding and building key partnerships. This is good advice for smaller startups who want to make it big in Vietnam, but the definition of a tipping point is that it is unpredictable. Huy is still watching for that tipping point to happen for Mimo while they slowly build up their base of users and partnerships to move from linear to exponential growth. 2.5 million users is a base you can't ignore – compared to the eight million on Facebook in the nation – but how many people are active? Enough to conquer in 2013? Time will tell.

Facebook Conversation
comments