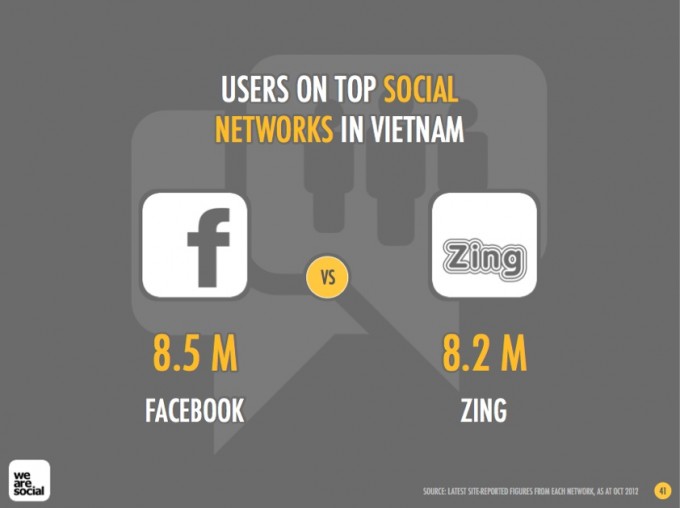 After last week's Asia-wide report on the state of the web, mobile, and social media, comes the infographic from digital agency WeAreSocial that focuses on Vietnam. The big news is that Facebook has overtaken Zing as Vietnam's social network of choice – now Facebook has 8.5 million Vietnamese users, surpassing Zing's 8.2 million in the country.
The WeAreSocial team notes that Facebook had a mere 2.9 million Facebook users in Vietnam last summer, so it's seeing stellar growth among Vietnam's very young and mobile netizens. But a note of caution: Zing's self-reported figures are a little older than Facebook's, so there's still a chance for the homegrown service to regain its crown. After all, Zing is still growing from its 6.8 million figure last year.
Here's the key slide from the infographic presentation showing Vietnam's web scene: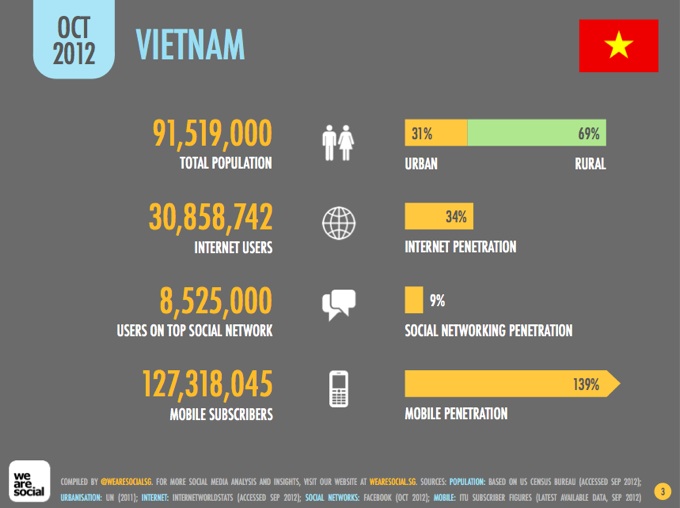 Some highlights in Vietnam to look out for:
Social media penetration of nine percent shows there's massive room for growth
127.3 million mobile subscribers in total, which is above the population figure of 91.5 million
19 million mobile internet users, which works out at penetration of around 21 percent
35 percent of those user their phones to access social media
28 percent of Vietnamese netizens now have a Facebook account
And here is the full deck for you to browse:
[Source: WeAreSocial blog]
For more fun graphics like this one, check out previous entries in our infographic series.