Usage of Google Maps for mobile seems to be tanking in China. New data from Analysys International shows that Google's (NASDAQ:GOOG) product – once the market leader in China – is on the cusp of dropping to third place. But for now, by the hair on its chin, it retains second place.
Google's loss is – as with search – Baidu's (NASDAQ:BIDU) gain. When we looked at data from the same source for 2011 Q4, Google Maps had 25.2 percent market share of the mobile mapping scene. This time, in 2012 Q2, it's down to 17.5 percent (see the chart below). Baidu Maps has gone the other way, climbing from a share of 11.7 percent to 17.3 percent.
But both those companies are still being bested by the Chinese firm Autonavi (NASDAQ:AMAP), which remains the market leader. Albeit with pretty stagnant market share in the country. But with Baidu recently rolling out free in-car voice navigation, it's clearly hunting down Autonavi. Here's the scene in full in 2012 Q2: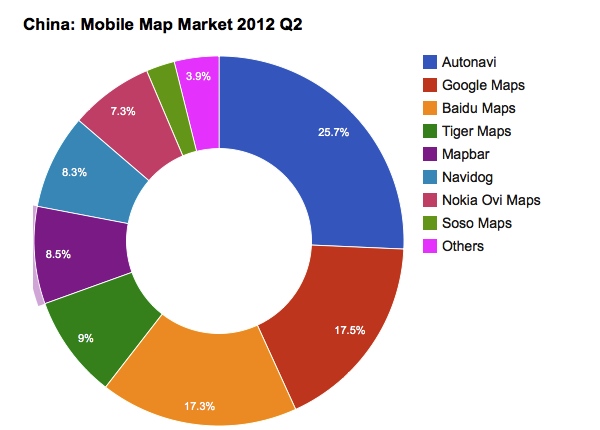 Overall, the market research firm found that the mobile mapping market grew 33 percent from the previous quarter – now up 206 percent year-on-year. The "accumulated accounts" stat in the graph below is an approximate analysis of actual user numbers of such apps. Analysys claims that maps apps have now hit 50 percent penetration amongst phone users in China.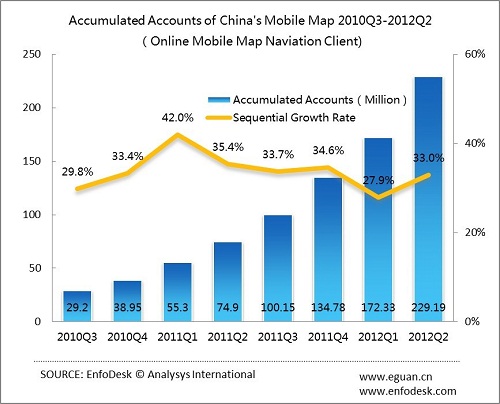 [Source: Analysys International (1) and (2)]

Facebook Conversation
comments