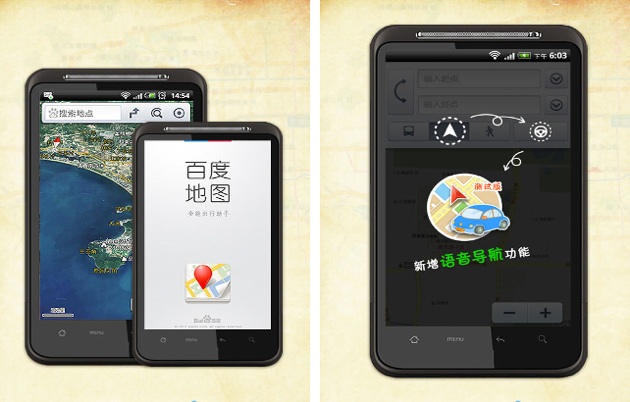 Chinese search engine Baidu (NASDAQ:BIDU) has today updated its mobile Baidu Maps app for Android and added free voice navigation for drivers. The new feature – packed into the newly-released v3.0 of the app – is usable when offline in conjunction with the new Baidu Mobile Map Navigator plugin and a bunch of downloadable maps that cover most of China. In addition, the app update brings 3D buildings to some points-of-interest around the country.
The move – especially because it's offered for free – will be a threat to China's Autonavi (NASDAQ:AMAP), which specializes in selling such navigation tools. When we recently looked at updated stats for usage of online mapping services in China, Autonavi ranked first, Google Maps had slipped to second for the first time ever, and Baidu had soared into third position [1]. With this update – which will presumably soon come to its iOS app as well – the search engine will be hoping to overhaul both its rivals.
In a post today on the official Baidu Beat blog, a staffer notes that "the number of privately-owned automobiles has grown by leaps and bounds" in China in recent years, "but the navigation products currently available on the Chinese market are expensive, and the navigation data updates required of these products tend to be slow and troublesome." That sounds like a dig at Autonavi. Baidu seems to want to speed up that process, and squeeze it into the smartphones that are owned by most of the folks who can afford to own cars here.
After testing out the updated app today, I noticed that it worked much better on Android 4.0 than the previous v2.2.0 of the app. Also, when you first hit the Google-esque navigation compass icon, the new Baidu Maps for Android prompts you to download a plugin called Baidu Mobile Map Navigator. Once that's installed, you'll also be prompted to download some offline maps so that you can actually use it while driving without needing a data connection – just your smartphone's GPS function will need to be turned on.
Baidu has been taking its maps very seriously in the past year – both the web and mobile app. Earlier this year it added hotel searches and other local venues; and then last winter it started to feature indoor maps for shopping malls as well as a very recent satellite view.
The updated Baidu Maps app hasn't yet reached the Google Play store, so grab it instead from the third-party Android store AppChina.
---
The Baidu Beat blog, however, states: "The latest data shows that Baidu Mobile Map currently occupies 32.57 percent of the mobile map market share, which is slightly higher than Google's 32.06 percent." But no source is given, and it doesn't match the Analysys International data that we've tended to prefer to use. ↩