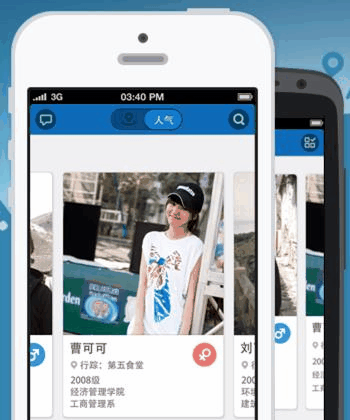 Once hailed as "China's Facebook", Renren (NYSE:RENN) has had a rough few years. First overtaken by microblogging (with new rivals Sina Weibo and Tencent Weibo) and then by group messaging (like WeChat), Renren hasn't been able to grow its user-base that much. But it is diversifying. The latest spin-off for Renren is a messaging app to challenge the mighty WeChat, and it's called TongXueShuo – literally meaning "classmates say".
But it's not restricted to campus buddies – and it's not just confined to messaging. Renren's TongXueShuo seems to throw in a lot of things in the hope that the mix will attract new users. There are elements of Path, Google+, regular social messaging apps, plus the find-and-flirt capabilities of apps like Momo.
The mobile-only TongXueShuo – with apps for iPhone and Android – came out quietly last month. Perhaps too quietly, as there has been no buzz surrounding it yet.
TongXueShuo is not only up against the 300 million users on WeChat, but also incoming rivals like NHN Japan's Line, which launched in China in December.
Last month, Renren also had a go at making a Snapchat-like app where the messages and images vanish after 10 seconds.
Renren's main social network remains China's seventh largest social network with about 170 million registered users.
(Thanks to reader Ken for pointing this out)

Facebook Conversation
comments