China's e-shoppers now number over 240 million, who collectively spend an average of $40,000 per second. But the nation's e-commerce boom is far from hitting its peak. New statistics from iResearch show that China's e-commerce market will see an estimated total of RMB 437.13 billion ($71 billion) spent [1] in Q2 2013, a new record high that is up 45.2 percent from the same period last year.
The B2C top 10 in China
So who are the top 10 sites in this monstrously massive market? Focusing solely on the B2C sector, we see that it's lead by Alibaba's Tmall, which is actually an open platform (B2B2C) for brands and retailers, sort of like a virtual mall. Tmall now has 50.6 percent market share of sales (see pie chart below) in this sector, up from 41.5 percent in Q2 last year.
Also gaining market share are Jingdong (called 360Buy last year), Tencent, Suning (all general Amazon-like sites), and Yihaodian (specializes in food), while luxury flash sales site VIPShop leaps into the top 10 for the first time: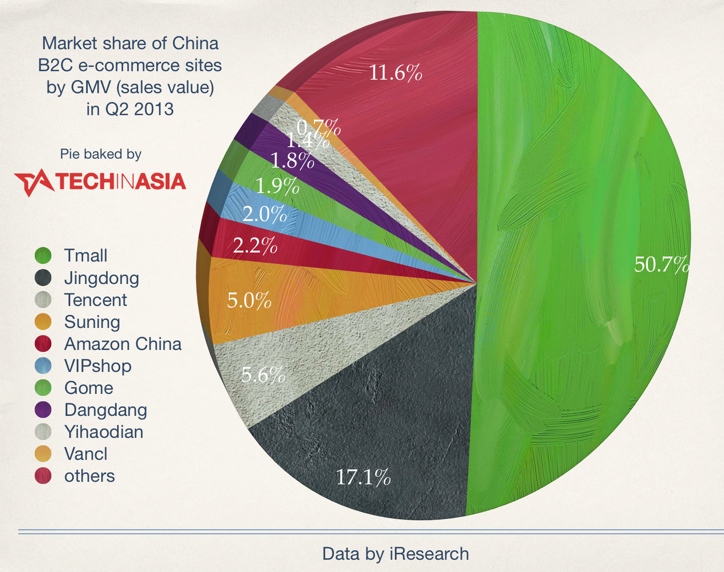 Amazon China and the very similar Dangdang have been stagnant in terms of market share in the past year, whilst Uniqlo-style clothing e-tailer Vancl suffered a big drop, losing over half of its market share by sales.
Amateur Chinese shopkeepers are still the kings
While the B2C e-commerce market in China is growing well, the nation's amateur shopkeepers are still the kings of e-tailing. China's B2C only sector is only worth $25.6 billion in terms of sales, and all the rest of that whopping $71 billion figure goes to the C2C sector. That means the numerous stores on sites like Alibaba's Taobao and Tencent's Paipai. But B2C shopping sites have now grown to represent 36.9 percent of the total e-commerce market: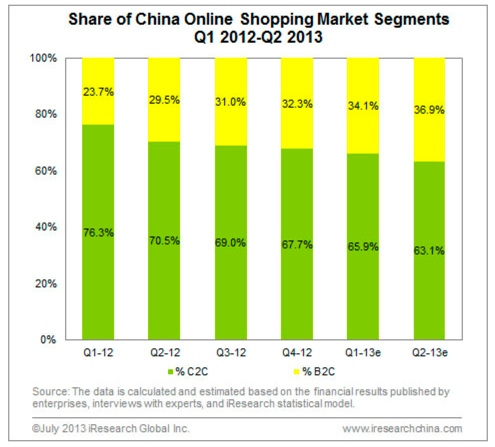 Why is that happening? iResearch notes that B2C e-stores are increasingly high profile, especially with their aggressive sales promotions in this cut-throat industry; that has also meant that C2C sellers are losing their (usually dubious, sales tax-dodging) price advantage. Furthermore, increasing concern over poor quality or fake items is pushing consumers to more reputable sites.
(Data source: iResearch)
(Editing by Anh-Minh Do)
---
The official term is gross merchandising volume (GMV).  ↩

Facebook Conversation
comments