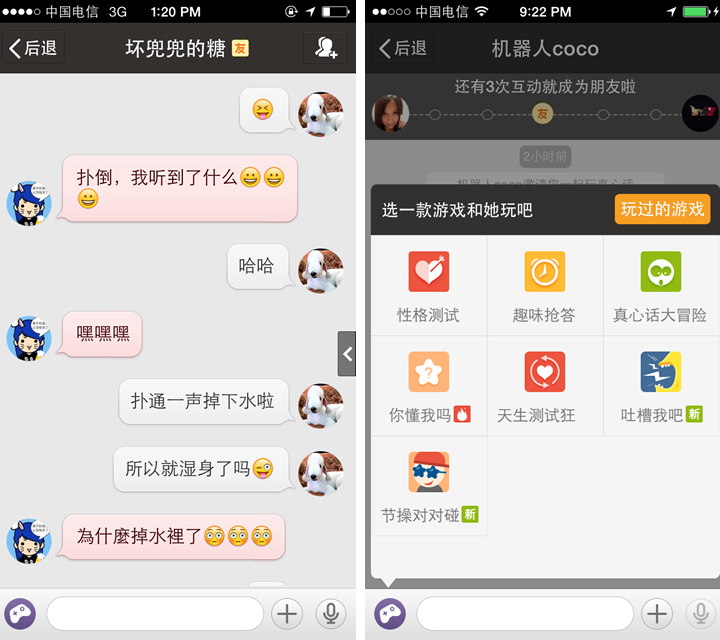 Pengpeng is a social mobile gaming app from China for Android and iOS. Upon first hearing that description, you'd be excused for raising a skeptical eyebrow – social and gaming are two of the toughest consumer sectors to penetrate on mobile. But after the Beijing-based startup raised US$4.2 million in funding at the beginning of this year, we lowered our eyebrows and turned our heads.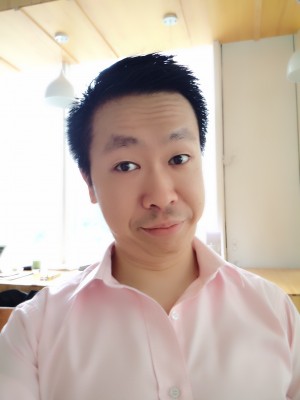 Tech in Asia sat down with founder Andy Tian to discuss Pengpeng, which he says already has 300,000 daily active users just two months after launch. Tian is no rookie entrepreneur with pipe dreams of building the next Facebook; he's the former general manager of Zynga China, and he understands the intricacies that make social networks tick.
"There's such a huge difference in how young people use mobile and anyone who is slightly older," says Tian, explaining why Pengpeng's users are by and large China's "post-90s" (born after 1990) youths. The location-based app lets you meet strangers through social games, which include quizzes, personality tests, horoscopes, and some simple competitive games. After completing a game, users can chat and befriend each other in a chat app-style interface. The app also supports a Facebook-style feed and group chats. Most of the games are developed in house for now, but the app has an open API for developers to submit their own creations.
Tian says the games serve as an ice breaker from which new relationships can emerge. "You don't just say, 'oh, I want to meet people. I think I'll meet that person.' You don't do that in real life," says Tian. People meet for lunch, go to parties, attend conferences, and, in this case, play games. That's where most real relationships begin.
"I'm not aiming at the mobile game audience at all. A mobile game user is not my user. A non-game user who's never played a game; that's my user," Tian states. "These games only serve to be social. It's only fun when you're playing with other people."
Blurred lines
The app blurs the lines between gaming, social, and dating. By default, you'll mostly see users of the opposite sex. Tian says, "We're about the highest female percentage among all the mobile phone apps in China. We're 50-50." That's quite a feat, as most apps' user bases are 30 percent or less female. The fact that the app is built around gaming makes it even more impressive.
"Guys are attracted by hot girls, but girls are attracted by content and their friends that are playing," he says. The app's UI is different depending on if a user signs up as a male or female. The color scheme is altered, and the home screen displays different game categories – like personality quizzes for girls and competitive games for guys. "Girls and guys are so different. Why should they have the same screen?" Tian asks. "In the future, the two UIs will diverge much more."
Tian expects the one-to-one gender ratio to remain the same as more users pour in. "Ultimately, the strongest undercurrent is to meet new people of the opposite sex. But that's the undercurrent," he explains. "If you make it too obvious, you change people's behavior in a way that's unhealthy for the network."
This is where dating and social sites and apps often fall flat, Tian says. "The key is to offer a variety of fun. I think that's where a lot of the current social apps fail. They don't offer fun. They offer people, but no fun."
Tian gives the analogy of throwing a party:
It's an 80s-themed party or a 90s-themed party or World Cup-themed party or toga-themed party or vodka shots party or so on and so forth. Every good party has a theme. It's well-organized, there are good-looking people there, it's fun, and there's lots of alcohol and good music, right? But, if you say, 'I'm throwing a singles party only for singles to find your dream other people,' then the people who show up are kinda sketchy – not nearly as fun. That's what happens in real life. That's what happens in online dating.
"Guys and girls become attracted to each other when they get to know each other in a more relaxed environment when they're having fun," Tian explains.
Matching up
Personality tests and quizzes are a big part of how Pengpeng uses virality to attract new users, especially women. "Girls love personality tests. Girls love to find out how much they know about their friends," Tian says. "Girls share two to three times more than guys."
They are the same sort of pop-culture quizzes you see smattered on Facebook: what kind of lover are you; which character would you be in a popular TV show; what does your fashion sense say about your personality. "Is it accurate? I don't know, but it's fun," he says.
But users' answers aren't just disregarded as frivolous pseudo-science. When applied to big data, the results from those quizzes can reveal a lot about someone. The data is amassed into individual personality analyses, which users can compare between each other to see if they are compatible. Tian says, "OkCupid and eHarmony have something like that as well, but the problem is the way they reach this is very boring. You answer a whole bunch of questions yourself."
By integrating these evaluations into the games, users don't have to spend time filling in information. Furthermore, quizzes are useful for measuring a person's degree of interest. "The more interested you are in something, the more you will know about it," he says. "In general, there's a pretty strong relationship between what you know and what you're interested in."
So while those goofy personality tests and quizzes might not have any scientific basis, Pengpeng can use them to effectively match the interests and personality traits of its users.
Facebook and WeChat are already out of style for China's youngsters
While Pengpeng is a native app, the majority of its content is web-based. That means native app users can play with friends on any platform that supports HTML5, including browsers or even in WeChat. This serves several purposes. One is that the company doesn't have to resubmit to the app store every time content is updated. Secondly, there's no need to download and install games for people outside the network – an important factor for teens and 20-something kids.
Pengpeng is one of the earliest apps to utilize WeChat's third-party login platform. WeChat, of course, has its own games, but Tian doesn't see it as a competitor. In fact, being able to play games within the app boosts Pengpeng's virality, and Tian says the conversion rate from playing on HTML5 to native installs is high.
"Most users have WeChat and play with something else," Tian says. WeChat games require a download and only work inside the app, which gives Pengpeng's web-based games an advantage, according to Tian. He shows his own WeChat account as an example. "The most popular game on WeChat has 500 friends playing. I have over 3,000 friends on WeChat. That means less than 20 percent have played the most popular game on Wechat."
Tian is in his 30s with a wife and child, but he emphasizes the need to stay tuned in to how China's wired-up younger generation thinks in order to grab their attention and retain it. He notes no one can make a one-size fits all social network, which is what he says Facebook is attempting to do.
I think Facebook is making a big mistake. The way to do that is not to change the platform to please them. It's to create new ones. Create new brands. It's what consumer companies do all the time. Coca Cola has how many beverage brands? Hundreds.
Pengpeng recently added Facebook integration, revealing its eventual goal of going beyond China's borders (Facebook is censored on the mainland). But when asked if he thinks Facebook and WeChat are old-fashioned, Tian replies, "Of course it is. Anything over two years old is too old-fashioned for someone who is 19."
"It's boring, Facebook. Same UI, same old shit. And your parents are commenting on every single picture," he says. "Young people need to have their own social network for their own age."
Tech in Asia asked Tian if he thinks Pengpeng will go out of style in two years.
"If we go out of style like Facebook, I don't mind it."