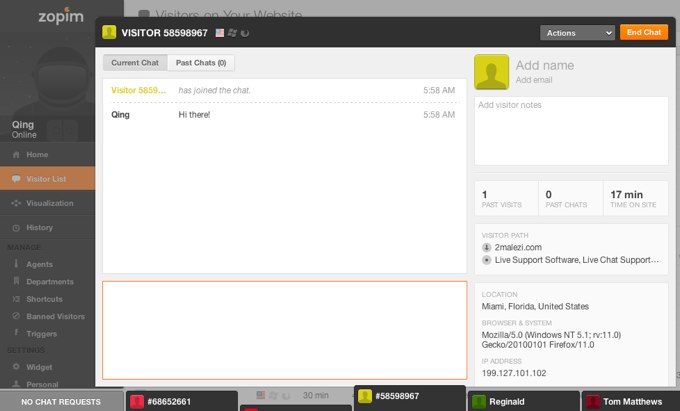 Singapore's Zopim.com makes a customer service live chat web app, and its staffers have been extra busy this Singaporean National Day prepping to rollout version 2.0 of the site that banishes Adobe Flash in favour of HTML5. There's also a brand-new iPhone app.
Zopim's Qing-Ru Lim explains to us that the service, which is aimed at online SMEs needing a way to do effective support, decided to "design everything from scratch" during this move. The total rewrite of its live chat (pictured above), dashboard, and customer support analytics (pictured below) will mean, she says, the Zopim is now truly cross-platform, with its HTML5 interface working across any modern PC or Mac browser and across lots of tablets and smartphones too. The aim, the company says, is to make speaking online with customers feel even more like chatting with friends on IM.
The makeover has also brought about some beefed-up features, such as analytics that let Zopim users get a clearer real-time picture of the customer. For example, the new version shows a trail of what someone is browsing on your site, enabling insights into what they might be looking for before the person has even opted to ask a question.
The startup began in 2008 and later got a SG$55,000 (US$44,200) kickstart from the government-run MDA Singapore, followed by a SG$300,000 ($241,000) seed round of funding from the NUS Enterprise varsity fund and Spring (also government-sourced). Zopim now has 16 staffers in Singapore, plus eight overseas sales representatives that reach out to global users. So far, we're told, the customer chat tools have gotten "more than 200,000" signups, with "50,000 active businesses using" it at present.
Being aimed at SMEs, not major corporations, Zopim also has a native iPhone app that's for bosses who need to take their customer support on the road. It just rolled out in beta form onto the iTunes App Store (find it here) and is focused solely on the live chat aspect. For the full dashboard and analytics, today's refreshed HTML5 site has the lot.