ZingMe, Vietnam's current number two social network after Facebook, has just released a new group chat service. Chat Nhom, (meaning Group Chat) allows users of ZingMe to jump into any live chat group and meet new people.
Chat Nhom allows users to explore eight main group categories, including: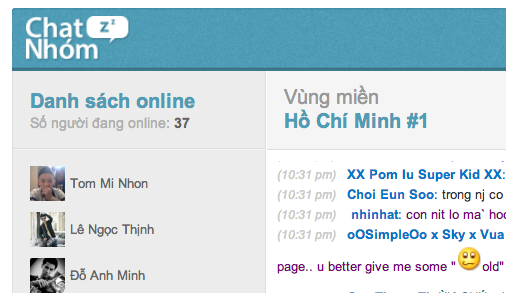 location
age
games
music
sports
books (and comic books)
movies
technology
I tried it myself, chose the manga discussion, and I was immediately immersed in a conversation about manga with other Vietnamese users. After chatting with them, I could click on their profiles and friend them or engage in a personal chat.
A big advantage for ZingMe's Chat Nhom is that it allows anyone from Yahoo, Facebook, Google+, and Twitter to use the service without a ZingMe account. Anybody can join the chat.
The service is an interesting departure from Facebook, ZingMe's biggest competitor in Vietnam. Unlike Facebook Groups, which utilizes asynchronous posts, Group Chat is real-time chatting. ZingMe, commonly known as a teen social network, is eager to reclaim its top spot as the number one social network in Vietnam. Chat Nhom is reminiscent of early IRC channels, in some ways.
Facebook, which started out in universities in the USA, now has an average user age of 40.5 years old. So I don't think it's impossible for ZingMe to also access an older crowd or to maintain the loyalty of its current user base as they age. The question is, is group chatting also a service that only teens would use? And is an older userbase important to ZingMe's social network strategy?
ZingMe is owned and managed under VNG, formerly VinaGaming, one of Vietnam's largest technology companies. On a related note, my colleague Willis published an interview with VNG's CEO last week.