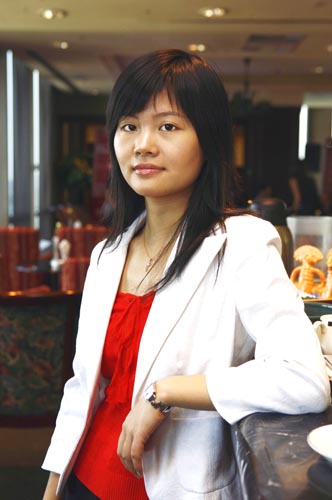 56.com was one of China's major independent video players before it was sold to Renren a month and a half ago. Now Zhou Juan, the co-founder and CEO of 56, has opened up to cyzone.cn about why she opted to let the company be acquired by Renren.
One reason is that when Tudou announced their intention to IPO (and then successfully pulled it off this summer), Zhou saw the window of opportunity closing for 56. Since Youku had already pulled off a successful IPO, Tudou's IPO would mean that 56.com, if it ever wanted to IPO, would be stuck being the third wheel. That was not a prospect that Zhou relished. "At most, one region can only have two listed companies [in the video market]," she said.
At around that same time, social networking giant Renren had already IPOed and was looking to acquire original video content. After consulting its finances — we assume this is code for "realizing Youku and Tudou would be too expensive" — the company turned to Zhou Juan and 56.com.
So, at more or less the same time, the two companies turned to each other. "By the middle of this year, I had begun to think that our hopes of pulling off an IPO were not likely, and that it would be more prudent to sell," said Zhou Juan:
Youku had already successfully listed, and at that time we knew that Tudou was also definitely going to list. As far as the same model [of site] is concerned, I felt that for [the market] to tolerate even two listed companies is good, and the opportunity for a third company [with the same model] was very small. When Tudou listed, their valuation was way less than Youku's, but is there really such a difference between Tudou and Youku? As I understand it, their traffic numbers aren't as different as their valuations.
Additionally, Baidu, Sohu, Tencent and other major players from other sectors were starting to get seriously into video, which meant an even tighter squeeze for independent video players and especially for the unlisted 56.com.
Zhou was also concerned about the strength of their user-generated content (UGC) model, which hasn't been embraced in China with quite the same fervor as it has elsewhere. Other video sites like Youku temper their UGC offerings with licensed shows, films, and original productions, and Zhou feared that in comparison, a more "pure" UGC site might be tough to sell to American investors without more clear demand from the Chinese market. "We're confident the UGC model will succeed," she said, "but it will take time to prove that."
If Renren had come earlier, Zhou said, the results might have been different: "We might not have considered selling the company." And it didn't hurt that Renren's CEO Chen Yizhou promised not to interfere much with the company, allowing them to maintain their management team and focus on their product but giving them the freedom to stop worrying about IPOs and how to exit. "It's like we just changed the chairmain of our board of directors," said Zhou. "If you look at it that way, it's easy to understand why [I] sold the company."
Throughout Zhou's comments there's a strong reflection of the real taboo that exists in China towards selling off a start-up. "Of course an IPO is best," she and others say repeatedly, and one gets the impression that she's feeling a bit like a failure, and that some others may consider her one. It's hard to imagine that the IPO-worship can continue for too long, though, as the IPO market continues to look sour for Chinese companies and the cash-rich bigger companies increasingly expanding into markets that, like video, were once the domain of independent players who only had to compete with each other.
[cyzone.cn via Sina Tech]