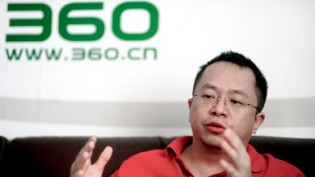 Late last week, Qihoo 360 CEO Zhou Hongyi spoke to the press about a number of things. Among them was his ultimate aspirations for the company in the long term:
[Qihoo] 360's free security software has already become the biggest in China, and made-in-China products are sold in every corner of the world. China's unique free web security business model must also go out into the world […] Just like made-in-China, we must go out and promote China's uniquely-innovated free antivirus business model to the world, and make [Qihoo 360] the biggest web security company in the world.
It's a lofty goal, but is it an attainable one? That depends in part on the proposed timeline, but anytime in the near future I think Qihoo is going to face huge obstacles in any attempt to expand beyond China and perhaps the overseas Chinese diaspora. Among them:
Consumer perceptions: Qihoo doesn't have the best reputation even within China, and many Chinese technology companies have found expanding beyond China's borders to be incredibly difficult because of the general distrust many people have (whether that's fair or not) towards Chinese software. Companies like Huawei and ZTE have been learning this the hard way over the past few years, and Qihoo's product is, if anything, more likely to cause even more consternation given that security software tends to have access to large swaths of the user's computer and communicates frequently with the company's servers.
Whether or not Qihoo is actually using this access to do anything malicious will not matter. If there are any doubts, most people simply aren't going to install the software. And with Chinese companies, there are always doubts. Perhaps in the long run, that could change. But I don't see it likely to change much in the immediate future, and if the frequent stories about hacking and spyware coming from China in the Western press are any indication, it could get even worse.
Entrenched competition: Like most of China's first-generation internet startups, Qihoo has grown and developed in parallel with China's internet industry. But to become the biggest web security company in the world, it would have to enter — and ultimately dominate — fully developed industries with deeply entrenched competition. There are already plenty of free security suites out there, and Qihoo would face tough battles in many markets to even gain a foothold, let alone become the dominant player.
And in fact, Qihoo even lags behind its biggest domestic competitor in this regard. Baidu launched a free PC security suite aimed at Southeast Asia (starting with Thailand) earlier this year. While Qihoo has been focused on trying to take some of Baidu's search market share in China, Baidu has been quietly laying the groundwork to beat Qihoo at its own game overseas. There are huge potential markets that are still developing in Southeast Asia where Qihoo might gain itself a foothold from which it could more easily target other international markets. But as far as I'm aware, it has thus far focused completely on China. And while it dominates the security market there, its competitors are becoming more and more entrenched overseas.
PR and legal problems: Qihoo CEO Zhong Hongyi is, to put it mildly, an opinionated guy. Working for him is apparently a nightmare. In the press, he's been more than willing to take on competitors and stoke "wars" like the famous '3Q War'. I feel quite certain that Qihoo would argue that and its other battles are its competitors' fault, but China's courts seem to disagree. Qihoo has lost two separate court cases in the past couple weeks. Now imagine a Qihoo that's fighting in these "wars" on five different continents, and constantly engaged in dozens of legal battles in various court systems around the world. It would be a nightmare.
Moreover, Zhou's blustery style of PR isn't likely to win the company many supporters overseas. Last week Zhou spoke about Steve Jobs as a role model, but Jobs was the exception, not the rule, and even Jobs tended to keep his famously sharp tongue out of the public eye as much as possible. Zhou's personal vendettas, sharp rhetoric, and microblog battles are going to turn people off in international markets where consumers are not used to seeing CEOs slinging mud in public so frequently.
And, without getting too personal, in my own experience Qihoo handles people questioning it less well than any company in China I have ever dealt with. But the sort of scrutiny an occasional Tech in Asia article puts on the company is nothing compared to the suspicion, doubt, and speculation that will be targeted at it from all corners of the globe if it attempts to expand internationally. Recently, the company has apparently hired a PR firm that has been helping arrange interviews in the Western press, but from what I've seen of how Qihoo's executives respond to criticism, even a skilled PR firm isn't going to be capable of holding them back (or undoing the damage) when the company is facing Huawei-like levels of scrutiny internationally.
---
Zhou talks about overseas expansion and domination in the context of it being his dream, a driving force that keeps him and the team motivated to push the company forward. In that sense, it's certainly quite valuable, but I think this is the sort of dream that's destined to stay in Zhou's head, at least for the foreseeable future.
(Incidentally, Zhou also talked a bit last week about the things he doesn't plan to do, which include e-commerce and mobile phones, although Qihoo does plan to keep making mobiles with hardware partners. Previously, Zhou has also promised Qihoo won't get into instant messaging.)