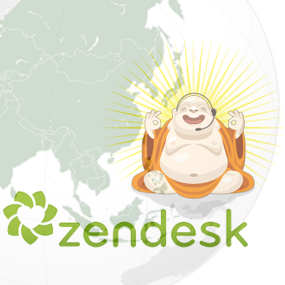 Full disclosure: As a Zen Buddhist, I'm already jazzed about a company named ZenDesk.
If you're not familiar with Zendesk already, it's a SaaS company that provides email ticket tracking, a customer self-service portal and a general help-desk platform. It's used by companies like Twitter, MSNBC, Scribd, Box, and SAP, but it also works with smaller to medium-sized businesses like hotels too. Basically, it helps companies have better customer service.
I talked to Zack Urlocker, COO at Zendesk, about Zendesk's story and current surge into the Asian market.
The company, which started in 2007 in Denmark with three founders, now services over 25,000 companies worldwide and just got a whopping $60 million in series D funding last September. Zendesk plans to use this extra capital to expand worldwide – and Asia's on the list.
In 2012, the number of business customers in Asia went from 300 to 900 and staff based in Asia went from two to seven and it expects to hit 14 employees in the region this year. Zack says the they've worked with over 3,000 companies in Asia Pacific, including the likes of SnapDeal, SingTel, Tiger Airways and Groupon. Zendesk wants to have 40 to 50 people working in Asia. Zack explains:
The advantage that we have with a worldwide base is companies can share best practices and can compare the satisfaction rate at their company versus others worldwide. It's important for companies to respond to customers within an hour to let customers know that they're working on their problems or have already started solving the problem, and the companies we work with have seen great returns on this.
Cloud bootcamps
Adoption of Zendesk and other cloud services, according to Zack, has been directly connected to broadband adoption. This is a recent shift that we've only seen in the last two to three years with cloud becoming a more secure and broad option. And it all comes down to CIOs trusting the cloud.
Zendesk has also been pro-active about training partners via bootcamps that are held throughout the region, which usually have 40 to 100 people in attendance. These bootcamps train clients on how to use the software and give them a place to trade best practices.
Currently, Zendesk is looking to work with medium-sized companies – and especially disruptive startups that don't have the bandwidth. Specifically, the company wants to form partnerships with companies throughout Southeast Asia who would be interested in integrating with their over 100 software packages and open APIs.