Tokyo-based tech start-up Zawatt just announced it has received funding from Japan's Cyber Agent Ventures and now is worth 20 million yen. The start-up is currently working on developing an iPhone app called Wishscope, which allows you to ask someone to help you make your wishes true and solve problems that you're facing.
I just had an opportunity to interview the start-up's CEO Daisaku Harada and CTO Nobuaki Suzuki at Shibuya's incubation facility, EC-Navi Boat.
---
Could you briefly tell us a little about Wishscope?
---
Wishscope is a web service and iPhone app that helps people connect by matching someone in need of help with those who can contribute or help them. There users can assume two different roles in this service: a person can ask someone else to help them (i.e. be a 'wisher'), or they can help someone do something (i.e. be a 'hero'). A list of other users' wants and wishes will be presented on our platform, and the users can take one if they find something that they can help with. Our service aims to help people solve problems and encourages them to connect with each other on our platform.
---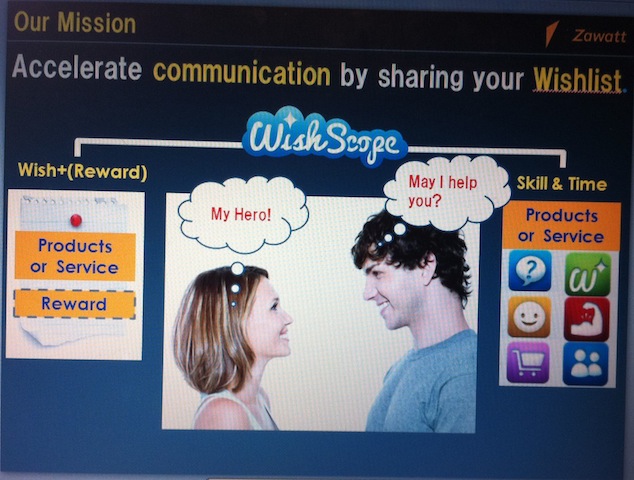 What is the major difference between Wishscope and similar services such as Zaarly (U.S.) and Wondershake (Japan)?
---
Zaarly was launched when we were just preparing for launching our service. One of the main differences with them is our service is based on real name member registration. As for Wondershake, actually we aimed at encouraging people to connect but we use a sort of list presentation where users can share their interests. That's the main gap.
---
What made you launch the service?
---
CEO Harada has a girlfriend, and I've given her many presents. But she never looks pleased when I give it to her. I thought it's very hard to find what other people really want. I then thought that exchanging people's wants would be a good idea. There are some services where people exchange skill sets on 'crowd-sourcing' sites, but I think it may require a high skill level or some expertise to participate. Our service is simpler, and people without any technical background or special expertise can help someone solve their issues and make their wishes come true.
---
How do you motivate users?
---
We have a payment system using PayPal that allows a 'wisher' to pay for a contribution from a 'hero.' Payment could be free (for voluntary work) or it could be higher than five US dollars.
---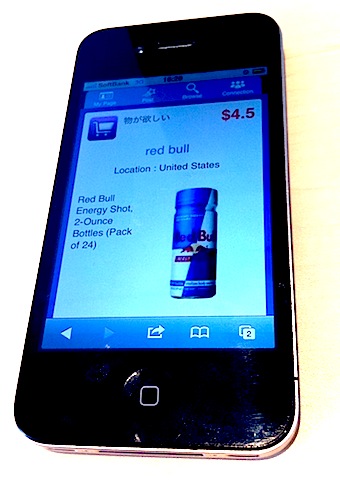 You're also facing some 'chicken-egg' problems since your launch. How do you overcome these issues?
---
Our service can be used with a Facebook accounts, and this makes it easier for users to log in. Once you've signed in, our service will take your interests from your Facebook profile settings, and then find someone whose interests are very similar to yours. Wishscope presents the most recommended set of wish lists to you, encouraging you to connect with those users.  Starting with highly populated areas in Japan and the U.S., we will make our service available city by city as a sufficient number of both 'wishers' and 'heroes' jump on board. In some areas, we're starting with giving a limited number of our service accounts to students attending a specific university. We think this is also a good idea because it stirs up high expectations.
---
What are your thoughts on international service expansion?
---
We think there will be a business model where 'wishers' in developed countries ask some 'heroes' in developing countries to help. That may contribute to solving the North-South problem.
---
When we give someone a relatively-expensive present or gift in a group payment arrangement, do we use the service as a platform for collecting the payment?
---
What we can do with the service is just escrow the payment from a 'wisher' to a 'hero' when the wisher's request has come true. In other words, we just provide a platform but have nothing to do with the payment and the deal. If we handled the group payment arrangement, we would stand as a money recipient from the wisher, which would be considered as a donation according to Japanese financial law.   According to Japan's financial authority, that could be suspected of falling under a category of money laundering crimes.
---
What is your future plan?
---
We would like to add a feature that shows users their wish-based relationship in diagrams, or something we want to call a 'wish graph.' In the next two or three years if a sufficient volume of 'wishgraph' data has been accumulated, we could use augmented reality (AR) technologies to try to develop a mount-head display device that would let you see the people's wishes when you wear it and see someone.

We'll launch the service for the iPhone and Android on the web, and release iPhone and Android apps afterwards.
---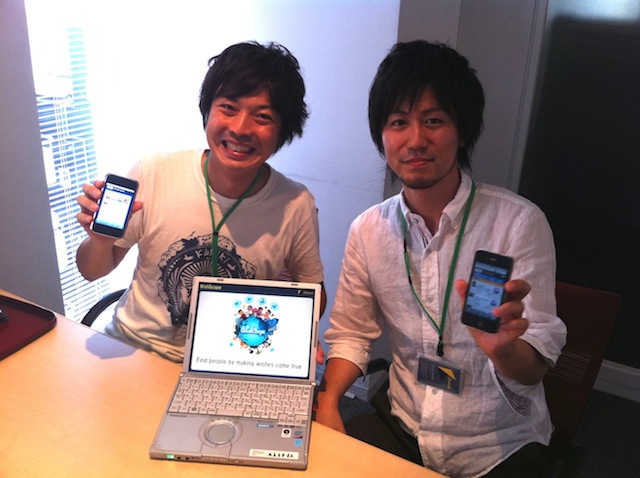 Can you tell us about your team?
---
CEO Harada was previously working on developing a new content service at Disney Japan. CTO Suzuki was previously working with Cybird, a well-known mobile app developer in Tokyo. A tech guy who has developed a Tokyo wants/give-away exchange site called Livris is highly committed to our service.  An American, a British guy and a Korean-American girl are committed to developing the service and designing the user interface.
---
Who has invested in your service?
---
A Hong Kong-based angel investor, Mr. Jun Emi from Netcapital Partners; Mr. Taiga Matsuyama from Kronos Fund; and another anonymous person are our seed investors.  We're very grateful for this additional fundraising from Cyber Agent Ventures which helped us greatly accelerate our international expansion and further our app development.
(Disclosure: Mr. Matsuyama co-manages East Ventures together with Mixi's ex-CTO Batara Eto. East Ventures has invested in Penn Olson.)
---
Finally, when the service or the app will be available?
---
As mentioned just before, our service will be available on a city-by-city basis. Hopefully, we would like to launch the service in some Japanese and US cities in September, otherwise in October at the latest.
---
The Zawatt team is expected to attend
TechCrunch Disrupt 2011
, which starts on Monday in San Francisco. Visit their booth and catch up with them if you are interested.