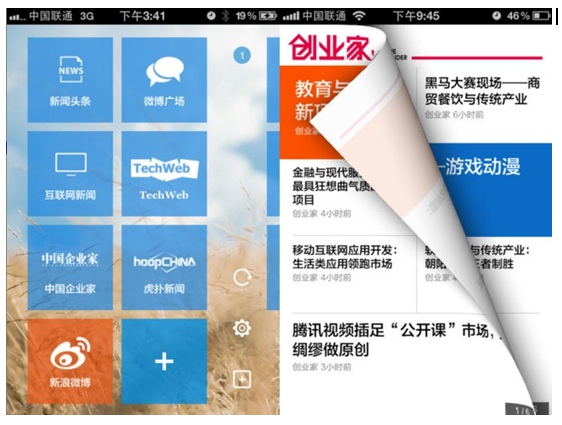 Most successful international apps have a group of Chinese imitators. The success of magazine-style news-reading app Flipboard has brought with it many such Chinese "brothers," such as Fruit, Netease reader, and perhaps the most popular of them all, Zaker. To commemorate its growing acclaim this year, it's time to give it a mini-review.
Zaker is made by Dooland, a web company founded in 2007, and has separate versions for iPhone and iPad. Like Flipboard – which got blocked in China back in May of this year – it carefully grabs news and interesting articles from numerous sources – from microblogs such as Weibo, blogs, news sites, and magazines, and updates in real time. Users can add their own sources via RSS and Google Reader.
As a reading app, Zaker has done much to improve the reading experience. Pages are turned with the same motion you would use to turn pages in a real magazine. Also, Zaker makes use of social networks such as Sina Weibo to allow you to share what you're perusing.
When you login to Zaker, it's a bit like a Twitter or Weibo app, with vertical scrolling to browse content. You can click on any link and read the news or watch the videos directly in the app. Clicking on the screen in the upper right corner lets you send a new tweet (to Weibo, I mean). You can favourite, retweet, and comment on any tweets you like inside Zaker, making it into a sort of satellite social network. Also, when you write and send your tweet, you can directly use the camera to take pictures.
Chen Chi-he, the CEO of Dooland, believes its advantage lies in the content. About 300 newspapers, 800 general news websites, and many magazines have cooperated with them in agreeing to aggregate content. Talking to Chinese tech site Hexun, he said:
Copyright risk is what we questioned about Flipboard's model, so we have to consider that fully by establishing a good relationship with the content side […] We will try to combine with e-commerce, LBS, and games. But at this stage, what we should do first is build a user base.
In China, on a subway or bus, you often see people reading while commuting. The market for such readers will surely only get bigger here, especially as Apple and its iOS gadgets grow in popularity in China. Perhaps Zaker will lead the reading revolution here.
Here's a video of the app in action on an iPhone: