Just recently, people were finally able to experience Yulgang 2 during their Game Blitz event in Malaysia and Philippines. Those who attended the event were also given the chance to register for Close Beta Testing (CBT) keys, which will be e-mailed to them when the game enters the CBT phase. If you weren't able to make it to any of the CBT venues, don't worry, as you still have the chance to get yourself a beta key here at Games in Asia. More on that later, but first, here's what we think of Yulgang 2 so far.
Story: Chaos and Order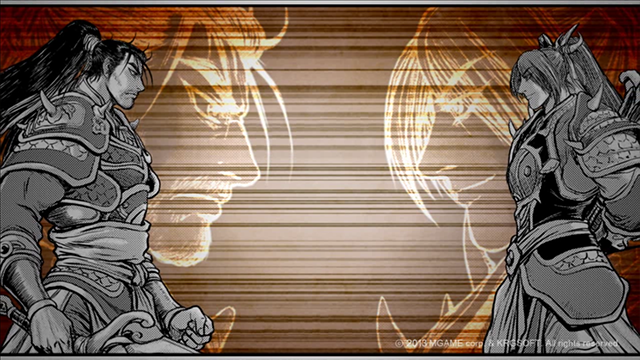 With the narration being completely in Korean and having no subtitles, I didn't learn much about the game's story. You could make out what is happening with the scenes and images, but that's pretty much it. Even though I didn't always understand what was going on, I liked how the whole intro was a combination of 3D scenes and manwah (Korean comics) story-telling. The story is about the two factions Chaos and Order who were previously allies, but are now in a state of war. Here's the story introduction with English subtitles:
Upon research, I found out that Yulgang 2 is based on a manwah of the same name written by Jeon Keuk-Jin and illustrated by Yang Jae-Hyun. If you take time to read a bit of the story, you'll notice that the characters from the manwah also appear in the game. This isn't the first time that a game has been lifted from a manwah. In fact, the famous hardcore MMORPG that swept over Asia, Ragnarok Online is also based on the manwah of the same name by Lee Myung Jin.
Character classes and customization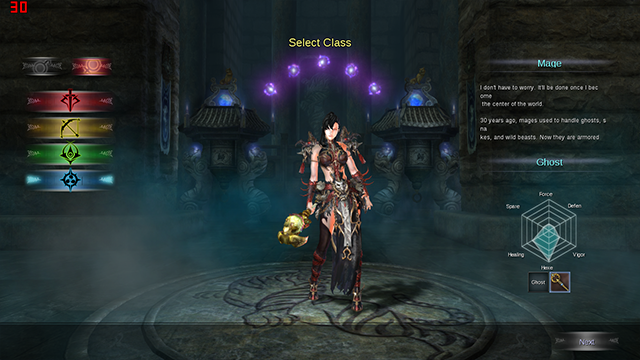 Character customization is something I definitely enjoy and look forward to in MMORPG's. I particularly like games that allow me to fully customize my character, and Yulgang 2 definitely delivers enough options to keep any gamer happy. You have four different character classes to choose from —Warrior, Archer, Healer, and Mage, and within each character class you can choose whether to be male or female. After you've got the class and the sex nailed down, you are then given a host of options to choose from to make your character your own.
Here's a character creation video. Don't worry, I kept the character customization part short as I could so you won't have to deal with my indecisiveness from details like hair to eye distance.
Gameplay: Non-targeted action and Air Gliding system
If you're used to playing action MMORPG's like Continent of the Ninth (C9) or Dragon Nest, Yulgang 2 would be easy for you to pick-up. As mentioned in earlier articles, Yulgang 2 is not targeted based, which means you attack based on what is in front of you. For those who are not used to this, you can press an assigned key that can help lock you onto one target. There is also a combo system, which may be a bit tricky, but can be rather fun and challenging if you get the knack of it. After all, who doesn't like juggling enemies with nicely-timed attacks and skills, right?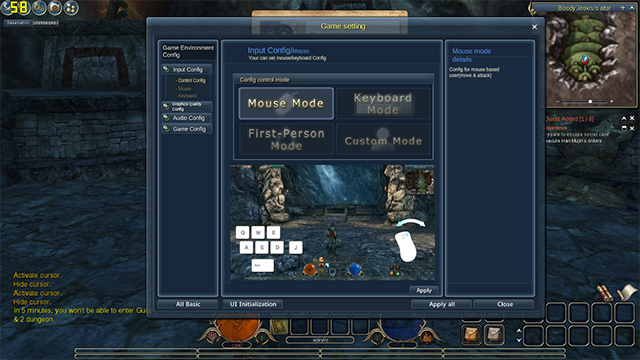 There are also four configurations for the mouse. You can switch between Mouse Mode, Keyboard Mode, First-Person Mode, and Custom Mode. You can select any mode based on how you prefer your camera to move. Mouse Mode requires you to hold down the right mouse button before you can turn the camera. In Keyboard Mode, you use the A and D keys to look around. The First-Person Mode moves the camera according to how you move your mouse. The Custom Mode, as the name suggests, allows you to set how the camera works according to different options.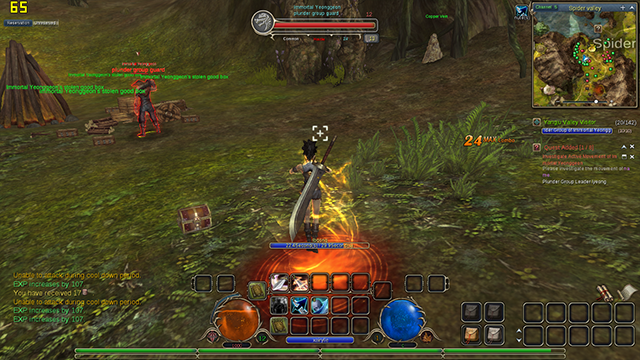 Depending on how you understand it, the Air Gliding system may need some time for you to figure out and get used to. Basically, all you have to do is double press the forward button, hold it, and then press the spacebar accordingly. It takes up quite a lot of stamina so I didn't get to glide as much as I wanted to. Also, I have to mention that you aren't invulnerable when gliding. I discovered this when I suddenly got held back by an enemy spider who managed to grab me with its web while I was in mid-air. How those spiders manage to spin webs on flying people is beyond me, but the world of Yulgang 2 says it's possible.
Aside from killing monsters and completing quests, Yulgang 2 offers a lot of things to do on the side. For instance, you have crafting, forging, and cooking to name a few. These enable you to create items and equipment that can help you in-game either by replenishing lost health or brandishing better equipment. I like how you can learn different things for each skill from each location. Like for example, one village offers to teach you a different cuisine from the others.
Thoughts on open-world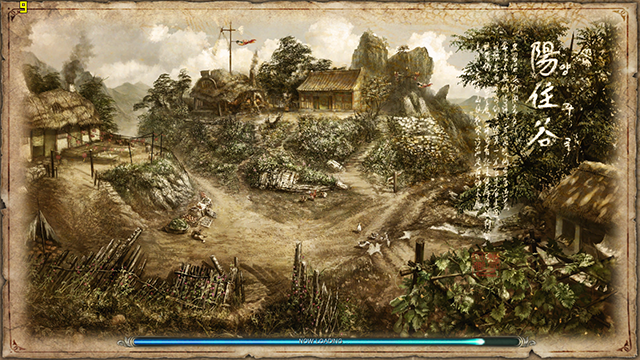 I've played open world MMORPG's like Eden Eternal and Ragnarok Online in the past, but I really prefer the instance or dungeon-based worlds better. More often than not, I end up having to deal with lag and kill-stealing, which I very much dislike.
Mobbing also seems to be possible for Yulgang 2 at the moment since I can run around being chased by a mass of enemies. Mobbing is basically running around as you make countless monsters chase you and then dispose of them with your (or a party member's) area of effect spells and skills. It's a good way of leveling up quicker and I look at it as the counterpart of dungeon runs in dungeon-based worlds.
Win a Yulgang 2 CBT Key!
Now here's the moment you've been waiting for. The GiA Yulgang 2 CBT Key contest! We have one hundred beta keys to giveaway so without further ado, here's how you can win:
Like the Games In Asia Facebook page.
Leave a comment on this article answering the question: Which feature of Yulgang 2 are you looking forward to the most?
It's that simple! Notifications and beta keys will also be sent to the e-mail address that you use when making the comment so make sure you leave a working e-mail address. Contest ends on December 20, 2013 and the randomly-selected winners will be announced on December 21, 2013.
You may already download the Yulgang 2 client so you can just activate the CBT key and hop into the game once the CBT kicks in. For more information about Yulgang 2, you can head over to their official website or follow them via Facebook and Twitter.