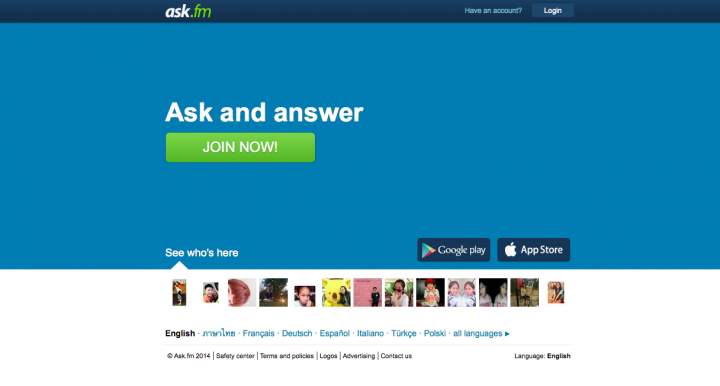 If you live in Thailand and haven't heard of Ask.fm, consider yourself out of the loop. This global community platform, which allows people to anonymously ask questions to others, has become ridiculously popular in Thailand the past week.
Google Trends noted that search activity has spiked suddenly in Thailand in April. Interest has surged globally as well, although the rise is more gradual.

Thai internet idols such as Guszanova VAva and DJ Tan Tanarat are among the early adopters. Ask.fm is so popular that people are creating fake accounts on the site already. Thai actress Opol Panisara is one of the victims.
What's Ask.fm?
Ask.fm is similar to a social network. People can use the platform primarily to ask questions to a community. Users aren't as inhibited in what they ask since they can stay anonymous.
Ask.fm is not new despite only gaining traction recently. It was founded in Latvia in 2010, and has since gained 112 million registered users.
The platform is similar to Q&A sites like Quora. However, Ask.fm is gunning for a teenage audience. In addition, users percieve Quora as a Q&A version of Wikipedia, while Ask.fm is used for more personal questions and answers.
According to Ask.fm, while Asia constitutes less than 10 percent of the site's traffic, it is the fastest growing region for the platform. Indonesia, South Korea, Vietnam, Japan, and Philippines are the top countries in Asia by registered users.
(See: This app turns Twitter into a Quora-esque search engine for all your burning questions)
Anonymity FTW
Social networks are big in Asia, and especially in Thailand. Add on the ability to stay anonymous, and you could have the secret sauce to success in this region. However, Ask.fm told Tech in Asia that users can still disclose their real identities if they want:
While anonymity is an important element of our service, it is also optional. Users can easily refuse to receive anonymous questions and can choose to ask questions with their real names. With six in ten questions asked anonymously, Ask.fm is a balanced platform of communication.
However, the anonymity feature has backfired on the company before. Parents in Florida, United States, have sued Ask.fm because bullies were using the platform to harrass a teenager.
Ask.fm has 55 in-house staff and an outsourced team of moderators and translators. The site hasn't done any advertising and obtained all users organically.
Although anonymity could be the key to success for Ask.fm in Asia, similar apps such as Whisper and Secret have not become popular in the region.
Localization could be the difference maker. Ask.fm understands the importance of different languages in Asia and has adapted the platform into Filipino, Indonesia, Chinese, Thai, and 40 other languages.
Ask.fm could just be another fad, but the momentum and widespread word-of-mouth can definitely benefit the company.