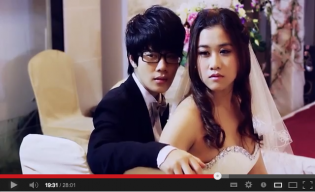 Vietnam just might be the first Asian nation to legalize gay marriage later this year. The upper echelons have been discussing legalizing since mid-2012 and the gay community has been waiting with bated breath with gay pride demonstrations and literature.
And the internet has been heating up with support for the LGBT movement in Vietnam too. My Best Gay Friends, a series of nine Youtube videos made in Ho Chi Minh city, has gone viral in Vietnam – the eighth episode garnering over 1.4 million views so far. The number may seem small in contrast to PSY's Gangnam Style, but to put it in context, Vietnam's top music videos rarely break three million views. So, it's a huge step in the direction of getting the mainstream Vietnamese population on board with gay rights.
My Best Gay Friends – a hit-tip to the Bangkok Post for spotting this – humorously follows the lives of various people in the LGBT community as they celebrate birthdays, hanging out with each other in the city, and go through the trials of life in Ho Chi Minh city. The issues range from mundane topics to serious things like marriage and perception in modern society. Bonus, it's absolutely hilarious. The channel that's been posting the series has been doing videos in support of gay pride since 2007. My Best Gay Friends started last year and the most recent episode came out three weeks ago, and the popularity hasn't abated. Each episode has broken a million views.
Last year, Vietnam had its first ever Gay Pride parade in Hanoi, the country's capital, where parents came out in support of their children who had come out of the closet. This is particularly inspiring in a country where being gay is generally laughed at and scorned. Families have been known to disown their children upon discovering their sexuality, and the words "bị bi đê", from the French, literally implies that being LGBT is a disease. So the video going viral underlines growing support for the Vietnamese LGBT community and a possible counter to common misconceptions.
You can check out the first episode here and then you might get into the whole series as well: