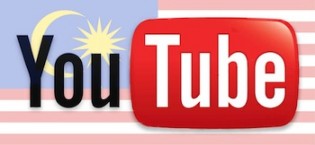 We just received word from the folks at YouTube that the popular online video site has just launched a localized service for Malaysia. As of about two hours ago, Malaysians can visit youtube.com.my or set their location setting to 'Malaysia' at the bottom of the YouTube page.
YouTube's Asia Pacific director of product management, Adam Smith elaborated on the new regional service:
Over the last few years Malaysians have been watching YouTube in huge numbers, and by launching a version of the site optimized for Malaysia today, we aim to create an even more relevant local YouTube experience.
The announcement has some positive implications for the music industry as well, as Malaysian musicians represented by the collecting society MACP can profit from having videos on YouTube, and even use it as a platform to springboard to a global stage.
Youtube also has partnerships in place with prominent Malaysian media companies such as Astro Malaysia and KRU Studios.
Our readers may recall that it was just back in October that YouTube also launched a localized site for Singapore as well.
Check out the 'Welcome to Malaysia, Youtube' video below, which features a number of prominent musicians offering their congratulations.