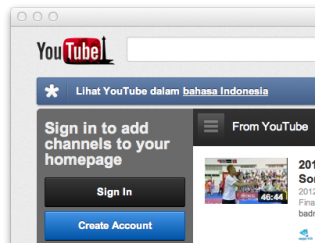 After Singapore and Malaysia received their localized YouTube sites, we knew that soon enough it would be Indonesia's turn. Today it has happened, with YouTube Indonesia launching at YouTube.co.id. Users can log on to the Indonesian site by selecting an option below YouTube.com or by simply visiting YouTube.co.id in the browser. The localized site is in the Indonesian language.
Besides the obvious language change, YouTube has also partnered with some of the top Indonesian media companies to enrich the localized site, including Kompas TV, Kompas Cybermedia, Viva Media Group and MyTrans.com. Local musicians, under Wahana Musick Indonesia (WAMI) and their content rights holder, will also have a chance to monetize their content with YouTube Indonesia through advertisement revenue share.
YouTube's director of product management for the Asia Pacific region, Adam Smith, noted in the announcement today:
We are here in Jakarta today to open up a new local YouTube domain made especially for Indonesia, which features videos popular in Indonesia and videos uploaded by Indonesians. We hope this fosters the development of a local Indonesian community within the greater YouTube community, and that Indonesian artists, musicians, filmmakers, and video creators of all kinds will embrace the YouTube platform to share their stories with their neighbors, friends, fellow citizens — and also the rest of the world.
When we spoke with Google's country head for Indonesia, Rudy Ramawy, at our Startup Asia Jakarta conference last week, he noted that the country was the world's third quickest growth area for new web users, and that it was a place where the company hopes to build many partnerships [1]. He emphasized that more local content was a big necessity, and hopefully now that YouTube Indonesia has launched, things will pick up in the video space at least.
But just as it's important to bring Indonesian content to the world, it's also a priority to bring global content to Indonesia via YouTube. And that will happen this summer as Indonesians can watch the London Olympics on the IOC's YouTube channel for free, from July 27 to August 12.
---
YouTube of course is a subsidiary of Google, since it was bought late 2006.  ↩