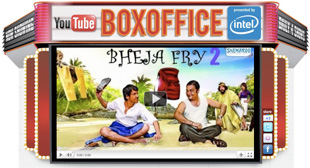 Back in June, we told you that YouTube started offering Bollywood movies to India for free. It's a pretty sweet deal for all Indian YouTube users. Adding to the many titles already available, Google India recently announced that Bheja Fry 2 will be made available to all Indian users for free, thanks to Shemaroo Entertainment. So if you love free movies (and who doesn't) head over to Shemaroo Entertainment's website to give it a +1 or/and a like on its Facebook page.
Here's some background on the film:
Bheja Fry 2 is a sequel to the 2007 low budget but extremely popular film Bheja Fry and was released in theatres on June 17, 2011. The film stars Vinay Pathak as Bharat Bhushan, the character who was loved and adored by all in its first release. Kay Kay Menon and Minissha Lamba are the other leading stars in the film.
Besides Bheja Fry 2, users can enjoy over 1,500 movies on YouTube Boxoffice, available in local languages such as Gujarati, Marathi, Telugu, Tamil and Bengali. This initiative is free but users have to "enjoy" the ads as well. But I figure that's a small price to pay for a free film. It's certainly encouraging to see new digital distribution channels for movies online.
Interestingly the film is not restricted to viewers in India (the Penn Olson team can view it in some countries but not others), and embedding the video is allowed. So it looks like Shemaroo is aiming for maximum reach with this film. The film is captioned too, so English speaking film fans can enjoy it as well.