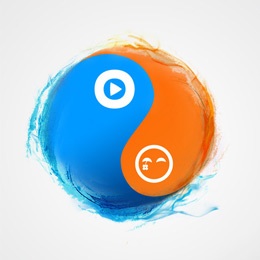 Chinese video website Youku (NYSE:YOKU) quietly announced late last week that it had made a move to integrate Youku and Tudou accounts, after their giant merger back on March 12. Here at Tech in Asia we've been wondering how the two sites would coexist post merger, and whether there would be any tie-ups between the two services, which so far remain as independent video sites.
What this new integration means is that users can use Youku credentials to log in to Tudou, and vice versa. In the future, there will be incrementally improved support for your friend relationships on the platforms, and more synchronized activities as well. Youku already integrates a number of other social services into its video platform for comments and favoriting, such as Sina and Tencent Weibo, Renren, and Kaixin001 (see below).
It's safe to assume that Youku (or Youku/Tudou) doesn't want to have its services fragmented, so it will be interesting to watch exactly how smoothly this integration goes (I suspect they are playing Barry White on a loop at the offices) and how users on both platforms respond.
It might be an understatement to say the merger has affected the minor players in China's video space as well. As far as content licensing goes, word on the street says that Sohu, Tencent, and Baidu's Qiyi will be teaming up (but not actually merging) to purchase video rights together.
Just last night Youku announced that it had signed an exclusive content deal with CBS Studios International for the two television shows Survivor and American's Next Top Model.