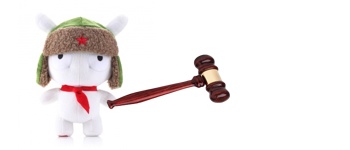 Two events occurred this week confirming Xiaomi's maturation from a promising startup to a player that is running with the big dogs.
On a rather light note, October 9 was former Android wizard Hugo Barra's first official day on the job as global VP at the company, which Xiaomi marked by tweeting a photo of Barra slouched over the Xiaomi mascot.
And on a more serious note, Chinese video streaming service Youku Tudou (NYSE:YOKU) sued the hardware firm for allegedly providing unlicensed content on its stream-to-TV Xiaomi Box device.
According to Sina Tech, Youku Tudou has accused Xiaomi of giving Xiaomi Box owners access to over ten TV series originally under license to the video streaming website. Youku Tudou demands Xiaomi immediately cease providing the content in question, along with 5.1 million RMB (about $830,000) and a public apology.
Later today, Xiaomi issued a public statement claiming that it obtains all of its content on the Xiaomi Box from Future TV, one of China's leading streaming content providers whose other partners include Huawei and LeTV. Without a legally authorized contract with a content provider, Xiaomi states, the company would be unable to sell its device.
As it turns out Future TV already has a reputation for providing access to unlicensed content. But the company's no back alley peddler – Tencent and CCTV are both major stakeholders. The former company and Xiaomi happen to be bosom buddies, as the two teamed up to release the Xiaomi Red Rice smartphone last July.
Of course, there's some slight irony in the allegations, as Youku Tudou (or Youku and Tudou, as the company was once two separate entities) used to be the standard bearer for streaming unlicensed content for Chinese viewers, but the firm has since outgrown that reputation and blossomed into a Hulu-like content provider.
Given the paltry sum and the historical murkiness of intellectual property in China, the lawsuit's a slap on the wrist. The real company at the center of this case is Future TV, which, by providing unlawfully obtained video, is a few steps behind Youku Tudou in regard to respect for copyright law.
(Editing by Paul Bischoff)