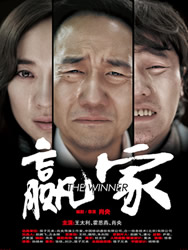 An original short film entitled The Ultimate Winner (赢家) is racking up a pretty impressive number of views over on Chinese video site Youku, even though it has been online for just a few days. (Note: I'm going by the stats here at the time of writing)
The movie is a 'Youku Original,' continuing the company's content push in an effort to stand out even more in the Chinese online video space. Chairman and CEO Victor Koo explains:
Content is strategically important for us, and we will continue to invest in content — both in content that we produce ourselves, and in copyrighted content that we license from rights holders.
You can view the movie below. It has English subtitles, so hats off to Youku for making it accessible to more than just Chinese speakers. As for why it's doing so popular, I think it's because The Ultimate Winner touches on a range of hotly debated topics that Chinese netizens are likely to take an interested in. See for yourself:
Prominent original content on Youku is certainly good publicity for the website since it went legit. The site has changed a lot since a few years back. I remember when the most popular videos on there were American shows like Prison Break.
We reported earlier this month on the animated series Miss Puff, a rather risque cartoon that's also helping Youku in its push for more original content.
The company's rival, Tudou, which may or may not go public sometime soon, also just announced more original content. It's second original drama, Office Utopia, was just announced today.