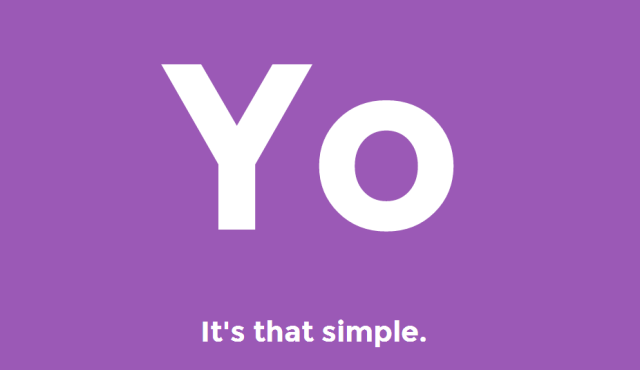 Tales of long lost twins captivate me. Here's a great example: Samantha Futerman, an actress in California, discovers that she has a twin sister by the name of Anaïs Bordier, a French fashion design student. The pair reunite, and a DNA test confirms their twinhood.
The startup world works the same way. Identical ideas percolate in different places, and founders turn them into reality while being totally oblivious to one another.
Yo, a startup founded by an Israeli living in San Francisco, has gained fame (or notoriety, depending on your point of view) for doing one thing and one thing only: sending yos to people. The app has defied logic by going viral. Yo's founder Or Arbel tells Tech in Asia that it now has over 2 million registered users. It recently raised US$1.5 million at a US$10 million valuation from Betaworks, Mashable's Pete Cashmore, the founders of China's Tencent, and others.
Arbel calls Yo "context-specific" messaging. Venture capitalist Marc Andreessen terms it "one-bit" communication. It's where the meaning of the message is determined by the context in which it was received. That could be the identity of the sender, the time of the message, or the location of the receiver.
Turns out Yo wasn't the first to use this sort of minimalist messaging. ZipDial, a startup in India, has been doing it for years.
Founded by Valerie Wagoner along with Sanjay Swamy and Amiya Pathak in 2010, ZipDial is a platform built on top of a unique phenomenon in India and other developing countries. Since prepaid mobile plans are the norm in these places, the missed call has become an essentially free method of communication.
"It's an exceptionally prevalent peer-to-peer user behavior where users dial a friend's number and then hang up on purpose in order to signal something such as 'call me back' or 'I'm thinking of you' or 'I've arrived home safely'," Wagoner tells TechCrunch in an interview.
Sounds familiar? Here's Yo's app description:
Wanna say "good morning"? just Yo.
Wanna say "Baby I'm thinking about you"? – Yo.
"I've finished my meeting, come by my office" – Yo.
"Are you up?" – Yo.
Both are examples of context-based communication. If you still think Yo is a ludicrous idea, consider this: ZipDial has turned missed calls into a legitimate business. It is effectively a call-to-action, the click of the developing world where majority of people use feature phones.
See: In India, you can respond to Facebook ads with a 'missed call'
To date, the Bangalore-based startup has worked with over 300 brands and processed over 400 million missed calls. It partnered with Twitter and Facebook, the former to allow people in India to follow a Bollywood star by giving ZipDial a missed call, the latter to allow Facebook users to respond to a special ad unit by doing the same.
ZipDial has provided a blueprint for Yo to follow. While ZipDial focuses on the emerging markets, the rest of the world is ripe for Yo's taking.
Just a toy, but so what?
Many tech bloggers make the fatal mistake of dismissing Yo, which has raised US$1 million from investors, because it is a dumb app. Worse, they're calling the fundraising round a symptom of a tech bubble.
Both of these criticisms are probably true. But judge Yo on its future potential, just like you would any startup. Chris Dixon, venture capitalist at Andreessen Horowitz, contends that "the next big thing will start out looking like a toy." It was true of Twitter, Wikipedia, and even the Internet.
Right now, Yo is certainly nothing more than a toy, and it's not even that fun. I found myself sending two yos and stopping right there, because not a lot of people are using it.
Arbel admits the product isn't ready for primetime because it went viral before the team could anticipate it. Now, they barely have time to patch things up. That explains why it was hacked so easily. "The infrastructure's not yet built. We're working like crazy to get it fixed," says Arbel, who delayed our interview because he had to do some bug fixing.
Arbel originally intended Yo to be a "single-tap attention tool". The minimalistic approach makes it less intrusive than other apps, because there's nothing to read. Yo's next test is whether it can be more than a toy. Dixon cautions in his blog post:
To distinguish toys that are disruptive from toys that will remain just toys, you need to look at products as processes. Obviously, products get better inasmuch as the designer adds features, but this is a relatively weak force. Much more powerful are external forces: microchips getting cheaper, bandwidth becoming ubiquitous, mobile devices getting smarter, etc. For a product to be disruptive it needs to be designed to ride these changes up the utility curve.
The notion that Yo could be something more came only later. Arbel had not heard of ZipDial or how people use missed calls in developing countries until recently.
Now, Arbel wants users to get yos from everything that interests them, be it sports teams, local businesses, or dry cleaners. "You could get a Yo at a restaurant when your table's ready," he says.
Yo recently released an API on IFTTT, an online service where users can create connections between apps. The French football team – ousted by Germany in the World Cup – hopped onto the bandwagon, letting users send yos to support the team, or receive a yo when it scores a goal.
A hackathon organized by the startup surfaced even more use cases. YoServerisDown sends a yo when, well, your server goes down. YOaster throws you a yo when the bread is toasted, while YO Radio bookmarks a song on radio when users, you guessed it, send a yo.
So what of the external forces that could realize a toy's disruptive potential? The Internet of Things might propel Yo ahead. Developers can use Yo to give smart devices the ability to notify users across all platforms.
The arrival of smartwatches and wearable computers could serve as another catalyst, given that Yo's terse nature could become a perfect fit on small screens.
It's far too early to tell whether the phenomenon will catch on. ZipDial worked because missed calls addressed the scarcity of cash. What gaps can Yo fill?
The scarcity of screen real estate could be one. Or perhaps the scarcity of attention, because given Yo's nature, people can fully understand a message without needing to read a long text or open an app.
Yo still has to find its own path, despite missed calls becoming a thing in many countries.