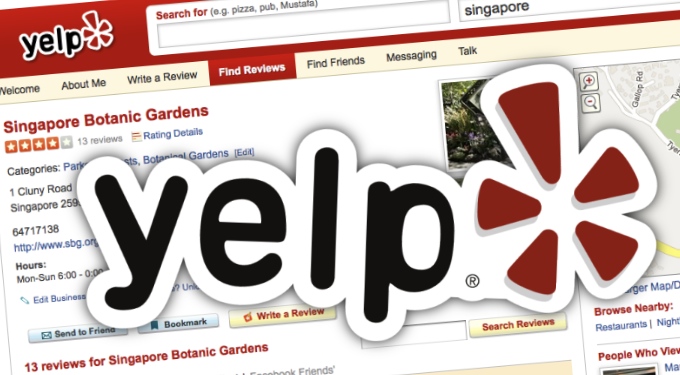 Yelp (NYSE:YELP), the US-based reviews and listings site, has today launched in Singapore, marking the company's Asian debut. Now at Yelp.com.sg, it means that social Singaporeans can now create accounts on the service and start reviewing places. Plus, the island nation's businesses can start up their own pages too.
Singapore makes great sense as a bridge into Asia, it being a wired nation with a diverse populace. Oh, and awesome food too. Yelp's VP of new markets, Miriam Warren, seems to concur:
Singapore has one of the highest per-capita gross domestic products in the world and is home to a vibrant and well-connected melting pot of cultures. We're excited to make Yelp available to this cosmopolitan city, and are looking forward to reading the chorus of opinions about where to find the best laksa, wedding dresses, and used bookstores in Singapore.
Yelp's official blog turns on the charm:
The people of Singapore are discerning tastemakers with a strong sense of pride in the diversity of their cuisine and culture, and we're excited to see how their eclectic tastes will contribute to the growth of their very own Yelp community.
Of course, Singaporeans already have a good choice of alternatives. There's Hungrygowhere, which was acquired by SingTel in May of this year, thereby incorporating the telco's own inSing Food listings; or for a more visual and mobile-oriented approach, locals could just use the sweet-looking Burpple app.
Indeed, with Yelp's voyage to Asia coming so late, it'll find other markets already well served by homegrown services, such as Zodio in Thailand (which is looking at Southeast Asia expansion), or Dianping in China.