Speaking at the New Economy Summit 2014 in Tokyo today, Yelp co-founder and CEO Jeremy Stoppelman formally announced the launch of his community-sourced restaurant review site in Japan.
"It has been many years in the making," said Stoppelman. "So many people back at Yelp headquarters this morning were so excited to flip the switch and turn on the site and for the apps that we've been building for so long." It's now online at Yelp.co.jp.
Yelp made the launch public on its blog last night, but Stoppelman provided a glimpse into his own decision-making process whilst taking at the NES event today.
Yelp entered the Asian market via Singapore in September 2012. Japan became the 26th country to receive Yelp and its second stop in Asia – a move partially inspired by Salesforce's Marc Benioff.
Stoppelman said that Benioff would yell at him: "Why aren't you in Japan?" After "constantly berating" him, Stoppelman said that his decision to enter the Japanese market was crystallized.
Unique hurdles in Japan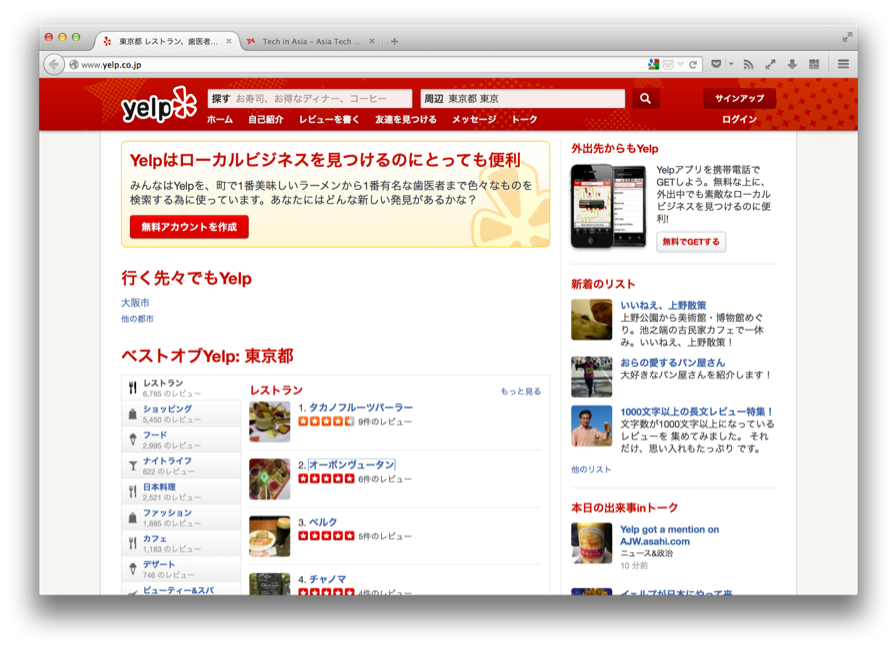 Despite personal interest in Japan, he said that Singapore was the obvious first choice for Asia because it lacked a language barrier. Stoppelman also discussed the challenges that his team faced by setting up shop in Japan.
Japan has unique hurdles because of handling the character set, the unique challenges in search. […] But we have long known that it's a very attractive market. Historically, Japan was seen as a unique cultural market for US companies. There was a perception that Japan was different. Anonymity, for instance, was critical.
He pointed out the initial worries that Facebook wouldn't work in Japan because Japanese users were reluctant to use their own identities. The concern was unfounded — Facebook overtook Mixi, previously the country's most popular social network, in 2012; Facebook boasted 21 million active users in Japan as of last year.
(See: India's Zomato gets $37 million funding to challenge Yelp in more markets)
Explaining how he would differentiate Yelp from similar services in Japan – the popular restaurant review site Tabelog, for example – Stoppelman cited his company's commitment to community and the wide range of review opportunities.
Making new friends and connecting at offline events will be particularly unique. But most importantly, the service goes across all businesses… you can review anything with an address.
Looking ahead to the 2020 Tokyo Olympics
Asked if he would return to the conference next year and talk about the headway Yelp has made in Japan, Stoppelman said that he's looking further down the road – specifically to 2020. "I think that by the time the Olympics come [to Tokyo] we will hopefully be a household name."
Pressed about further expansion into Asia, Stoppelman said that Yelp is exploring other "large markets," though he didn't share specific launch plans.