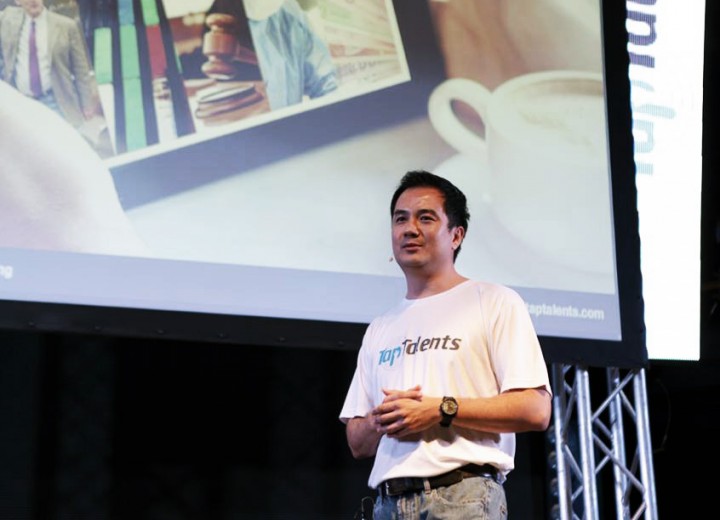 Unlike many natural-born entrepreneurs who began selling cupcakes before they learned how to walk, Mun Yew Loh, like the rest of us, lived a more mundane life. An engineering graduate with no patience for programming, Loh traversed many roles in the internet space before finding a fit: building industries and promoting their success.
His job at IDA, a government agency overseeing Singapore's internet and digital media industry, suited him perfectly: as an industry development manager for enterprise mobility, Loh greased the wheels for startups by facilitating introductions and identified gaps in government assistance.
In his off-hours, Loh immersed himself in the technology scene, co-founding the Singapore chapter of Mobile Monday, a networking platform for the mobile industry, and serving as a committee member in the Singapore Computing Society.
These stints gave him an opportunity to interact with the entire community and watch how startups turn ideas into workable businesses. Not only that, they seeded him with the thought of someday working on his own idea.
"You build up a wealth of knowledge trying to identify real challenges. It came to a point where I thought: I might as well solve it myself," he says.
Scratching the itch
Based on his observations in the tech industry, a pressing problem in the enterprise space lies in corporate training. While many companies rely on traditional classroom instruction to train employees, much of the information is lost once the salesforce heads out into the field. So to aid knowledge retention, it could be useful to have a service for employers to feed training materials to workers through a native app installed on their personal mobile devices. That idea became TapTalents.
Loh didn't know if the pursuit was worth giving up his stint at IDA, where he has stayed for seven years. But he tested the concept anyway.
"I realized that the real action was the other side of the fence, where the developers are. For every match I make at IDA, I don't get commission. All I get is a friendly pat on the back," he says jokingly.
To seek validation for TapTalents, Loh found a technical co-founder in Rendy Ferixsen through his network and applied to the iJam government startup grant. He sold early stage investor FocusTech Ventures on his idea and got into JFDI, a premier startup accelerator in Singapore, beating over 300 applicants.
Altogether, he received $117,000 in seed funding and was able to get his first customer in Fuji Xerox before even having a product ready. These early deals convinced him, his co-founder, and his family of a wife and three daughters that it was worth leaving IDA to work on the startup full-time.
Fortunately my wife has a stable job and income. But I don't have a bottomless pit. There's a timeline she has given me.
Getting companies off the intranet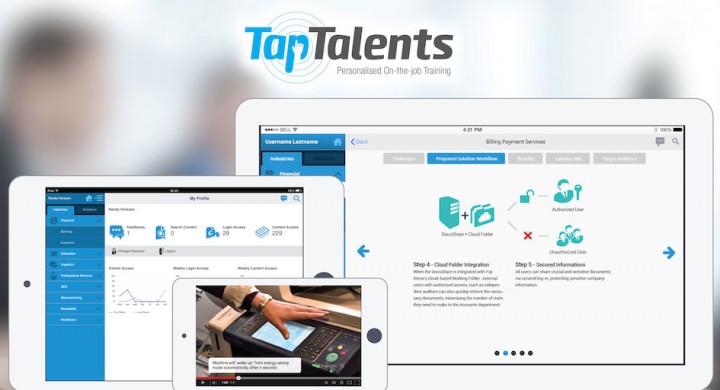 It's not that corporations don't already have an online repository of information stored online. The problem is that the intranet, which contains the company's knowledge base, is hard to log into and access, especially for field workers.
TapTalents is a service built specifically for the bring-your-own-device-era: it is both native and web-friendly, and it collects data that enables employers to see if their training materials are effective. Uploading content is supposed to be easy too: TapTalents has a content management system where trainers can upload text, photo, and soon video content that are organized by topics. Eventually, the startup hopes to introduce pop quizzes to test a worker's knowledge retention, a feature that will be useful in compliance training.
This year is crucial for Mun Yew in terms of demonstrating further traction in the hopes of securing more funding. Investors, he says, want to see how many paying customers he can obtain, and his current funding will only be enough to last him a few months while he builds up a customer pipeline.
TapTalents has secured a pilot trial with a division within SingTel, Singapore's largest telco by subscriber base. As a one-man sales team, he has the arduous task of convincing corporations in Asia, which don't spend as much as the West in employee training, to invest in the area.
Loh confesses that being the founder is way tougher than working in a cushy government job.
The toughest part is sweating on how to find your customers before your cash runs out.
There's also a learning curve in terms of grappling with how government bureaucracies and startups work.
Loh found himself doing a lot more thinking and writing at IDA. Many layers of approval are sought and only when the plans are laid out perfectly is action taken.
"All along I've been trained to operate in a certain way. I'd tell startups to tell me their biggest, most comprehensive technical plans."
"Startups are the total opposite. Here, you find the smallest thing you could do that could sell to a lot of people. Then you run with it."
(Lead photo: JFDI.Asia)
(Editing by Josh Horwitz and Steven Millward)