Many are those who suffer from the deluge of news that comes in every morning. Thankfully, there's an app that can help to narrow the most essential news to their core points for daily consumption. Yahoo News Digest was launched today for both iOS and Android users in Singapore.
Yahoo News Digest was launched in the United States and United Kingdom earlier this year, and was generally well-received. According to Nick D'Aloisio, product manager of Yahoo News Digest, 40 percent of those who downloaded the app continually return to it on a daily basis.
Here's how it works. At a pre-determined time every morning and night – 8am and 6pm local time, wherever you are in the world – the news app will deliver a summarized version of the top international news to your phone, called a "digest". Each digest contains 10 pieces of news from across a range of the most important news categories, such as business, politics, sports and technology.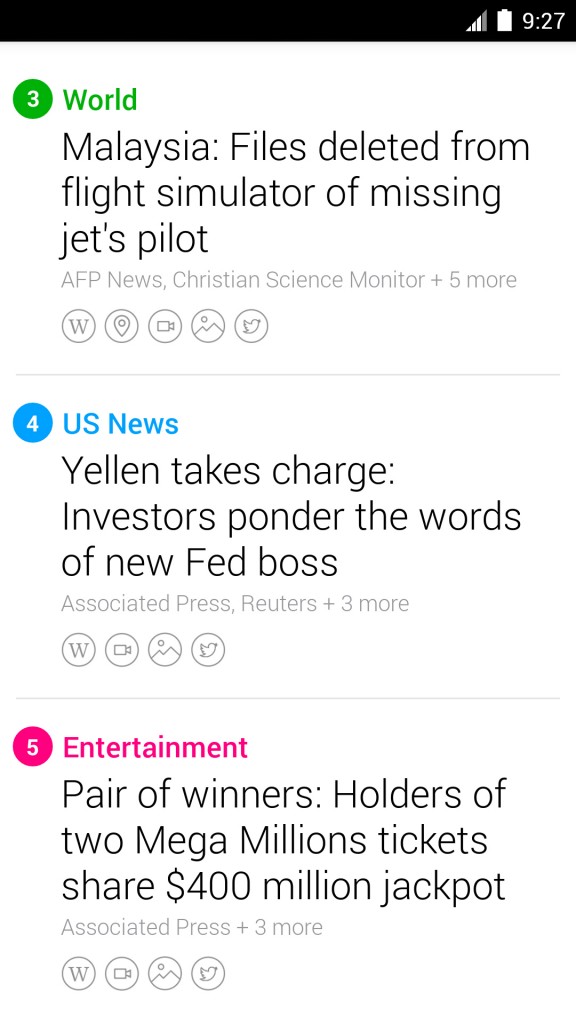 Each individual story is formed from multiple news sources. Each story contains bits of information called "atoms" – such as articles, maps, Wikipedia entries, videos, and photos – which enhance the story. According to Yahoo, users find it easier to "digest" the piece. The entire process of summarization and selection of "atoms" are done with a mix of algorithmic and human editorial curation.
Yahoo News Digest is Yahoo's first product based on Summly, which was created by D'Aloisio when he was just 15 years old. Summly was subsequently acquired by Yahoo early last year for a cool US$33 million. The tech prodigy now manages Yahoo News Digest.
D'Aloisio is now putting what he learnt from Summly into play with this app. "We learned that people don't necessarily have the time to read a lengthy article, especially when they have limited screen real-estate while they're on the go," he said in a statement. "By giving powerful algorithmic summaries, we found that people were willing to consume more content when it was boiled down to the most important bits."
(See: Filipino developer's news summarization tool TextTeaser deserves more attention)
I personally enjoy being able to quickly receive and consume the most important bits of trending news on the app, which also has a rather sleek and well-designed interface. That said, being in a profession that needs us to keep up with a broader range of news, I found the digests to be limiting. I expect that Yahoo News Digest would be sufficient for those who want to be "in the know", as D'Aloisio puts it, but not so much for others who desire to peruse a wider range of topics and stories, whether for work or pure interest.