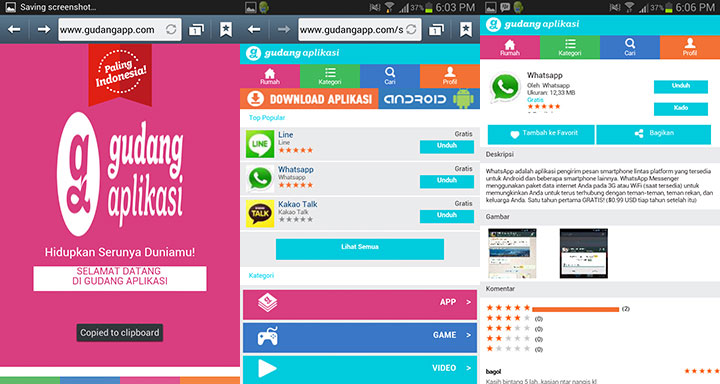 Indonesian telco XL Axiata has been planning to launch its own app store for some time, and today it is revealed to be Gudang App (which means "app factory"). It lets XL subscribers find and download Android apps. Users can pay for premium apps using XL Axiata's carrier billing. The service is only available for XL subscribers.
There are currently six thousand apps inside Gudang App. You can browse them through categories like games, video, music, wallpaper, and social media. The "XL services" category doesn't have any apps inside, instead it lets users buy XL Axiata telco services like social media browsing and SMS packages. The new site is still in beta.
Gudang App's design is focused on text rather than images. This helps in faster access to the site but the app's screenshots don't look as appealing as they do in Google Play. You mostly have to rely on the text description to find out what an app is about.
(See: Indonesia's video streaming service XL Nonton seems to be dead)
Revie Sylviana Andriani, XL Axiata's GM of content and applications, tells Indotelko that the company will learn a lot from user feedback and will revamp the site as it goes on. The team aims to get 10,000 apps inside it by the time they make a public announcement about the new store, with most of it being gaming apps.
Indonesia's biggest telco, Telkomsel, also has an app store – two, in fact – of its own by the names of TemanDev and UZone. Another notable third-party app store operating in Indonesia is Jalan Tikus.
(Hat tip to IndoTelko for spotting)