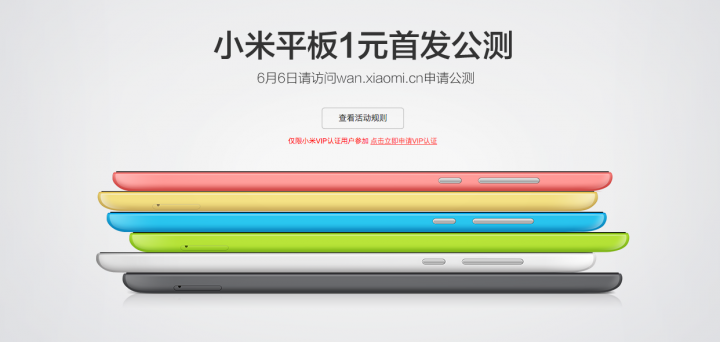 Earlier this month popular Chinese phone maker Xiaomi announced it would venture into tablets with the upcoming launch of the Mi Pad, a 7.9-inch screen device that will cost RMB1499 (about US$240) at 16GB of storage. While the revelation came as no surprise, one unknown remained – founder Lei Jun gave no release date for the device.
While there's still no telling when ordinary Chinese consumers can log on to Xiaomi's website and pick up a Mi Pad, diehard fans will soon have a shot at snagging it for the price of RMB1 (about US$0.16).
According to an announcement on the company's user forums, VIP members of Xiaomi's online community can apply to receive a beta version of the Mi Pad starting on June 6. After filling out and submitting a form, early birds will pay the RMB1 along with 300 points that they've accumulated from their contributions to the community. As for who will actually receive a tablet, the post clearly states that it will only select members who have been active members of Xiaomi's forums – wannabes and posers need not apply.
This isn't the first time Xiaomi has given out beta versions of its products to its following of nerd-fans. Last December, the company gave out its then-new smart router for the RMB1 in a flash sale, but those who were lucky enough to nab one had to build it themselves.
See: Xiaomi breaks into global top 10 for smartphone shipments, kicks out HTC
Giving away early incarnations of these devices is all part of the Xiaomi spirit – for the MIUI ROM that powers its smartphones (and will also power its tablets), weekly updates are derived from fan input on its message boards.
Xiaomi intends to ship 60 million smartphones this year, more than triple its count for 2013. The company recently began operations in Malaysia, it's fourth market outside mainland China, and will likely enter India and the rest of Southeast Asia this year.