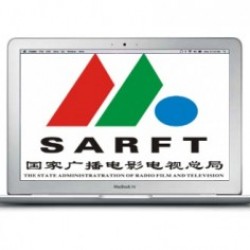 We reported on Friday that Xiaomi's TV set-top box had stopped working and speculated that the reason might be regulatory. And while the founder and CEO of the upstart gadget-maker, Lei Jun, has said the suspension was scheduled, the fact is that, in the gadget's current form, Xiaomi's 'Box' does run afoul of a couple of regulations laid out by SARFT, China's main media regulator. And that makes it effectively illegal in China for the time being.
The first problem is that any company interested in offering a set-top box in China is required to partner with one of seven media organizations that have been issued the relevant permits by SARFT. Additionally, the fact that the Xiaomi TV allows users to watch videos directly via public websites that Xiaomi doesn't own the rights to is also in violation of SARFT's rules for set-top boxes. Finally, Xiaomi may also need to apply to SARFT for permits relating to the individual serial numbers that must be listed on each device. SARFT officials have declined to comment directly on whether or not Xiaomi is being investigated or otherwise dealt with, but a SARFT spokesman told Sina Tech reporters, "The document [with the relevant regulations] is out there; going by that document is enough," so it seems Xiaomi may not be in hot water so long as it cleans up its act before the box hits retail when it ships next month.
The problem, of course, is that achieving legal compliance requires Xiaomi to remove many of its publicly available videos and partner with one of SARFT's seven content providers, which means the Xiaomi TV may not be able to offer the kind of content it was supposed to. The box plays video content from Sohu and Tencent Video, among other third party providers, but if Xiaomi doesn't buy the rights to all of that content itself, it can't legally show it through the device – yes, that's even though the Xiaomi Box is merely a content aggregator, sort of like Flipboard is for reading news.
Here's why that matters: the videos that Chinese internet users watch tend to be popular television shows from around the world. Streaming video sites have driven themselves nearly bankrupt paying the sky-high prices for the internet rights to top programs, and while costs are coming down, they're still significant. None of SARFT's seven official partners offer much of this kind of content; they're mostly focused on news and state-sponsored programming. So Xiaomi has to do one of three things: either be forced to pay huge sums in licensing fees to buy the rights to fun content that's publicly available online already; cut all that content and sell a set-top box that doesn't allow users to watch what they want; or try to find some way around the SARFT rule that doesn't provoke SARFT into stepping in and shutting the whole thing down.
None of that, of course, answers the question of why this is actually happening. Why would SARFT — which is China's film and TV regulator/censorship bureau — implement such buzz-killing regulations in the first place? Here is where we enter the realm of speculation, but I would say it is because SARFT feels the move to internet television has seen content that SARFT prefers to control fall increasingly under the purview of other departments in China's vast bureaucracy (primarily MIIT, which is responsible for a lot of internet regulation). The result has been a sort of on-again off-again bureaucratic turf war that has played out over the last few years and appears to be ramping up again. A set-top box that plays internet video content only would at first glance appear to be in MIIT's domain, but SARFT also regulates this area to protect "traditional" television and, to the extent that it can, prevent users from switching to internet video before SARFT has the ability to totally regulate the content there.
I recently wrote about the plans to establish a new, state-run telecom under SARFT, which would put an awful lot more than just TV under SARFT's control, and those plans ought to concern internet users and TV fans alike. SARFT has a long history of buzzkilling, banning all kinds of stuff, and it may well be crippling the Xiaomi TV before the device has even launched by requiring it to remove its most attractive content.