Beijing-based phone maker Xiaomi is set to get bigger – first in terms of market size as it spreads throughout Southeast Asia, and now in terms of screen size as it creeps towards phablets and tablets.
In a post on its official Sina Weibo page (hat-tip Engadget), Xiaomi unveiled a teaser for the Hongmi Note (or "Redmi Note," as its international release might be called), a 5.5-inch screen device that marks the company's first entry into the so-called phablet category. The teaser doesn't reveal much in the way of specs or price, though it does state that the Hongmi Note will come equipped with an octa-core processor. [Update 18:20 17 March: The pics are up on Sina Weibo! We've replaced the teaser with the official photo of the Hongmi Note below]. Xiaomi will begin taking pre-orders for the device on Wednesday on QZone, the Tencent-owned ecommerce marketplace where Xiaomi also launched the original Redmi device.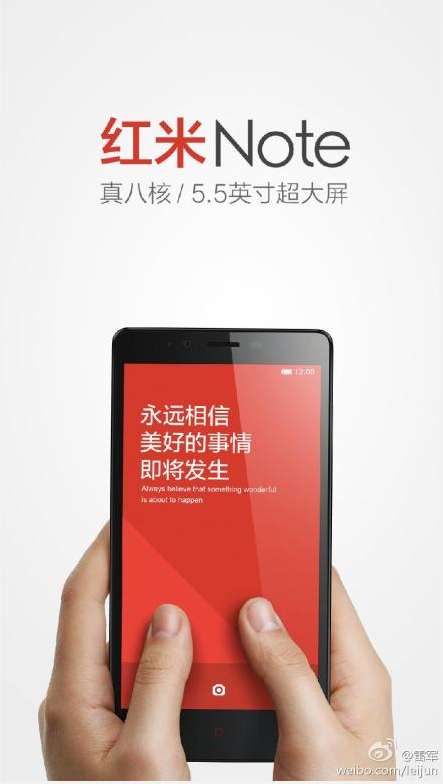 In addition, Engadget reports the company is rolling out an open beta version of its MIUI firmware – that's Xiaomi's customized Android-fork – for Google's Nexus 7. While MIUI has long been available as an installable ROM for smartphones (that's what helped it gain a following among international Android nerds), this marks the first time that tablet owners can take the fork for a whirl. Engadget states that Lei Jun is open to talking with tablet vendors about shipping devices that come pre-loaded with MIUI, which, if realized, would place Xiaomi alongside Cyanogenmod, the hot ROM maker that holds a partnership with China's Oppo.
Does this mean that the world will see a Xiaomi tablet in the future? Back in 2012 Xiaomi CEO Lei Jun told Tech In Asia that the company had no intentions to make a tablet of its own, but that was over a year ago. Xiaomi sells its devices at profit margins close to zero, and intends to develop MIUI as the company's future cash cow. While the Android ROM remains pretty sparse in terms of money-making features at the moment, thus far it looks like MIUI's future lies in media. In addition to its app store and game center, Xiaomi sells the set-top Xiaomi Box and a smart TV. It also reportedly established its own "Interactive Entertainment Division" to oversee collaboration with gaming firm Westhouse and torrent client-cum-video streamer Xunlei. Big games and big movies look better on big screens, so there ought to be no reason for Xiaomi to rule out expansion onto tablets.
(See: China's Xiaomi is working on phone launches in India, Indonesia, and other Asian markets)
Xiaomi recently launched its Mi3 and Redmi devices in Singapore, the company's first market outside of greater China. VP of international expansion Hugo Barra states that India might be its next stop.