China's young phone-maker Xiaomi has teased a possible expansion into Hong Kong. That's what's implied in a tweet from the official @XiaomiChina Twitter account, which just said: "Xiaomi is going to launch a new market in [blank] on [blank]." The image that accompanied the tweet lists a few of the key specs of its newest Xiaomi Mi2 Android-based phone, all written in traditional Chinese script, which is used in Hong Kong and Taiwan, but not in mainland China.
Piling on the clues, the image features a map of Hong Kong in silhouette, and has the Bauhinia flower (as appears on the Hong Kong flag), so those are massive clues that suggest this is related to Hong Kong. In case the tweet gets deleted, I'll post a screenshot: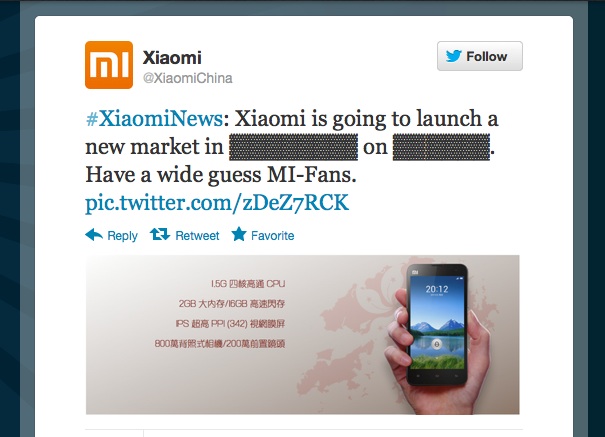 We reached out to a Xiaomi representative in Beijing, but the team could not comment on this.
When we talked to Xiaomi founder and serial entrepreneur Lei Jun a few months ago, he did reveal that the phone-maker was looking to expand to Taiwan and Hong Kong in the near future.
Then, at the GMIC Silicon Valley conference, Lei expanded on what he told us to pin-point Hong Kong, Taiwan, and even Singapore as targets for online sales by the end of the year.
The new Xiaomi Mi2, a quad-core Android smartphone that costs only 1,999 RMB (US$318), looks set to replicate the success of the first-ever phone the company made. The device is sold in batches, partly to generate hype as it repeatedly sells out, though also to alleviate the fact that it's struggling to manufacture the phone in sufficient numbers at a time when giant manufacturers like Samsung dominate the supply-chain of key components from smaller suppliers. If Xiaomi is indeed launching in Hong Kong and/or Taiwan, then it must be confident that it has enough stock to ship to these markets – despite their small size.
Rival Meizu has its own brick-and-mortar store in Hong Kong, which opened at the very end of last year. But Xiaomi is a big believer in e-commerce, and its overseas sales would certainly be done purely online.
Here's the full teaser image; notice the Hong Kong map in silhouette and the iconic flower: