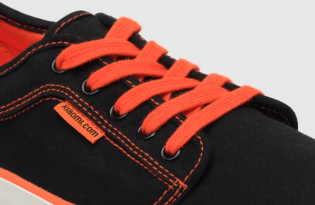 For a while now, Xiaomi has been taking advantage of its "cool factor" branding to sell lots of things that aren't smartphones (like this t-shirt that pictures the Xiaomi mascot tinkering with an Android robot's innards). But when the company announced it would start selling shoes, it turned a few heads. Even CEO Lei Jun himself admitted the move had puzzled a lot of people:
We're even selling Xiaomi brand shoes; everyone thinks we're being a little crazy. But we mostly sell what the users want; our model is different from other companies, we're starting an e-commerce company.
Confused yet? Us too, but Xiaomi VP of technology Li Moqiang shed a little more light on Xiaomi's strategy when he told TechWeb that the company was planning to work on smart shoes in the future. He says the shoes will be able to link up with your Xiaomi phone to measure things like steps taken, the wearers' heart rate, and more, which could then presumably be fed into any number of health and exercise apps. He also promised the shoes would be up to par with Xiaomi's traditional price-to-quality ratio.
If that still sounds a little crazy, it shouldn't — wearable tech and the internet of things seem destined to be the buzzwords of this year and years to come. If Google is about to start selling its cyborg glasses, why shouldn't Xiaomi make smart shoes? The company seems to be trying to set itself up as an integrated technology brand that might one day integrate with every part of your life from what you watch on TV to what clothes you wear.
Don't get out your wallets just yet though, because the shoes pictured above are not smart shoes, they're just regular old canvas ones. The Xiaomi smart shoes Li describes are coming at some undetermined point in the future, so if you're in the market for wearable tech from Xiaomi, you'll have to wait at least a little bit longer.
(via TechWeb)