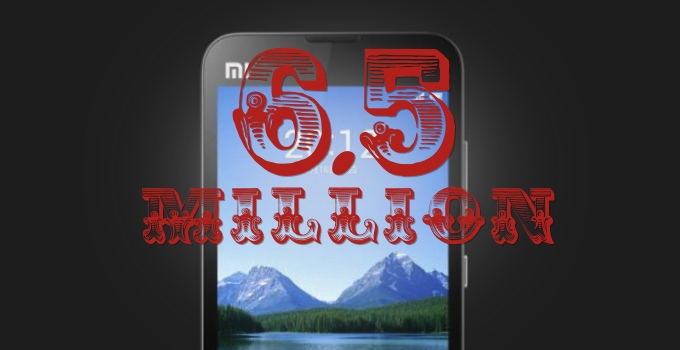 Chinese phone-maker Xiaomi has only been in the hardware business for only about a year and a half, but it has made a big impact in that time. And now we have new numbers that show how much of a dent that its phones have made in the smartphone landscape. Xiaomi team member Hong Feng has revealed that the startup has sold a grand total of 6.5 million of its Android-powered devices so far. That's across just two current models – the flagship Mi2 and the cheaper 1S.
He added that the Xiaomi 1S – which is a revamped version of its first-ever phone – has sold one million units from its launch in August up to October of this year.
In the summer of this year, the Beijing-based company was thought to have passed the three million sales milestone. And in May, Xiaomi officially stated that it shipped 700,000 units in May alone. From those figures, it would appear that Xiaomi is still selling nearly a quarter of a million phones each month, but the new 6.5 million stat suggests that the number is not accelerating. But, being quite new to the hardware sector, Xiaomi tends to sell phones in batches as they become available, suggesting that they're still grappling with the challenge of manufacturing enough of its gadgets to meet sustained demand. Or possibly creating artificial scarcity is good marketing.
It's a strong performance, and reason for Samsung, HTC, Motorola, and other global smartphone brands to be very concerned. We've already seen China-brand phones take up 60 percent of the country's smartphone market, led by the likes of Lenovo, Coolpad, Huawei and ZTE. And so Xiaomi is another contender for the top in that sector.
Hong Feng had one more interesting stat up his sleeve. He revealed to Donews that Xiaomi's own Android UI/skin/ROM, called MIUI, has surpassed 10 million users worldwide. MIUI – which is the interface on all Xiaomi phones – can be flashed onto numerous Android phones and is popular among tweakers. The ROM supports 32 phone models and 23 languages thus far.
Xiaomi wrapped up $216 million in funding back in June, and its Twitter account recently teased a possible expansion in the Hong Kong and/or Taiwan market. For now, its phones are mostly sold online within mainland China.
If you haven't seen it yet, check out our in-depth interview with Xiaomi founder Lei Jun.
[Source: Donews – article in Chinese; Lower image: Silicon Dragon Ventures]