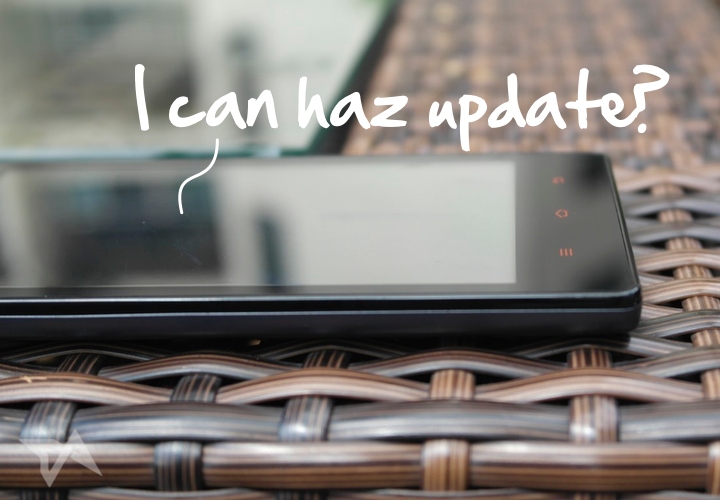 Ambitious Chinese phone-maker Xiaomi scooped up Hugo Barra, Google's former Android VP, last year to boost its international expansion. But despite that hire and its plan to win over smartphone enthusiasts with quality phones at half the price-tag of rival devices, there's no escaping the fact that Xiaomi is not the fastest at Android updates. (UPDATE on July 17: Thanks to several readers for pointing out that the Mi3 for India and the Philippines, the two most recent country launches, comes with Android 4.4. As does the MiPad. The chart below is updated to correct those errors and a few sentences in the story referencing Android 4.4 have been amended or deleted. Apologies for the confusion).
All Xiaomi's phones – and its recent tablet – run the company's own MIUI skin atop Android. And while Xiaomi is known for weekly updates of MIUI, incorporating some of the one million items of feedback per day from users, only one Xiaomi device (its MiPad) is running the newest version of Android, Android 4.4 KitKat, in every market where it's sold. Most of Xiaomi's devices are on Android 4.3, which came out to the public in July 2013. Xiaomi even sells one phone, the Mi2S, with Android 4.1, which first came out two years ago. Two years is basically two eons of mobile OS development.
Here's a chart (Note: the chart is updated after publishing to correct two errors) showing the state of Android updates on Xiaomi's three most important phones for new markets outside China, along with the new MiPad tablet. For contrast, there are three strong rival phones listed as well: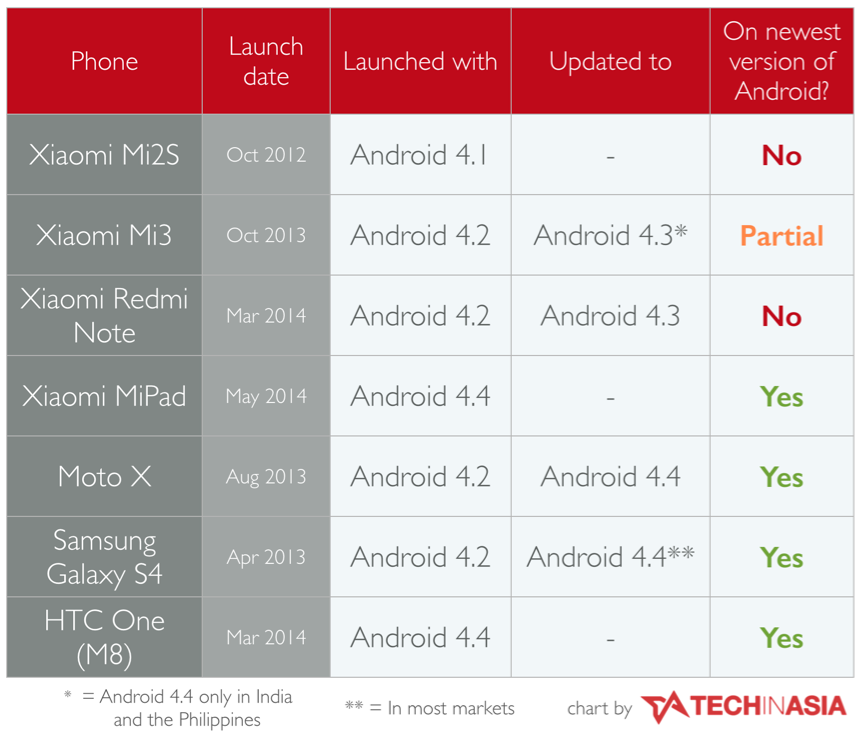 See: Xiaomi sells 26.1 million smartphones in first half of 2014, still on target for 60 million this year
Behind the curve
Old versions of Android deprive users of a lot of new features put in by Google, the architects of Android. While that's not such a major issue for phone geeks in China, where most Google services are blocked and the notion that Android comes from Google is so abstract that it has vanished into the ether, Xiaomi's failure with major Android point updates will likely weigh on the minds of potential buyers right now in new markets across Asia and eventually Latin America. Xiaomi's latest country launch was yesterday in India.
Since Xiaomi only sells its phones online and markets them via social media in its overseas markets, its target audience is not your grandmother – she's probably using whatever five-year-old phone you handed down to her. Rather, Xiaomi is going after young smartphone enthusiasts and those are the people who know about Android and care about software updates.
Xiaomi argues that users get a lot of useful new features from its very frequent MIUI updates. A Xiaomi representative explains to Tech in Asia:
Our MIUI system is a customized operating system based on the Android operating system, we want to focus on our product and try our best to make it better.
The Xiaomi rep goes on to explain that the startup is cooking up Android updates beneath the MIUI skin on its MIUI development channel. That beta channel for testers is building up an Android 4.4 update for the China Unicom (WDCMA) version of the Xiaomi Mi3, but there's no set date for its broad roll-out. The company is working on updates to 4.4 for other markets in the dev channel.
It's an issue seen throughout the Android ecosystem. The manufacturers' Android-based skins – like Samsung's Touchwiz, HTC Sense, Xiaomi's MIUI – seem to take precedence over giving users Android updates in a timely manner. That's the case even when there's a major Android security bug that needs fixing. Motorola made strides to change that during its period of Google ownership with a much lighter and less intrusive Android skin, as seen on the Moto X, that makes updates possible within a few weeks; Samsung has taken note and accelerated its major Android updates to a period of a few months, rather than a year or more, for its flagship devices. That leaves Xiaomi trailing behind more than ever.
The pressure is also on Xiaomi from other smaller brands that are aiming at phone geeks who know their stuff. China-based Oppo has tied up with well-known Android fiddlers CyanogenMod to put the CyanogenMod OS on some of its phones, which gives the phones credibility among Android fans and promises fast access to Google's freshest updates. Likewise, the new OnePlus One comes with CyanogenMod for non-China buyers and ships out of the box with Android 4.4 – the latest stable version available right now.
Xiaomi looks set to unveil its next flagship phone, the Mi4, on July 22. We'll be at the event and very curious to see if that also comes with Android 4.3, a year-old OS.
Are you an Android user? Let us know in the comments how important Android updates are to you.
See: REVIEW – OnePlus One is China's coolest smartphone… for now