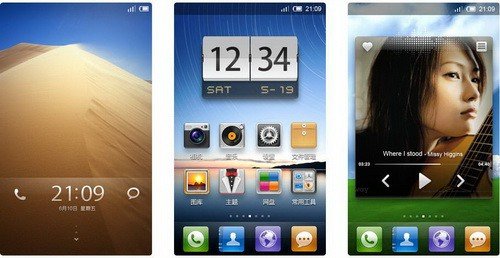 Details and screenshots of Xiaomi's upcoming smartphone are beginning to leak out (pictured above), pointing to it being a slickly-themed, Android-based, dual-core beast.
Its specs will include Qualcomm's dual-core 1.2GHz CPU, a 480 × 854 resolution 4-inch screen, and an 8-megapixel camera – all for a price in the range of 2,500 to 3,000 RMB (US$388 to 466), which will put it right up against popular HTC smartphones in China, such as the HTC Desire S.
Xiaomi is a Chinese software development company and possible hardware maker, perhaps best knwon so far for its Miliao group-messaging app (pictured below). It also created the MIUI Android theme/ROM, which will be a substantial basis of their upcoming phone. It's slated for a winter release, with all R&D said to be done by next month, and will be the firm's first venture into hardware.
It seems to be make-your-own-mobile month here in China, with Alibaba almost certainly going to release its cloud-based Aliyun mobile OS later this year, and search giant Baidu rumored to be prepping its own offering as well.
Mission Impossible
Its CEO, Lei Jun, is slowly ramping up the self-promotion on his Tencent microblog by giving netizens some insights into the company – including the nugget that he chose the name Xiaomi because the "mi" part of it, which means rice in Chinese, is an acronym for "mobile internet" as well as for his favourite movie Mission Impossible.
Xiaomi's latest round of funding was in January of this year, when it raised US$35million from Morningside Venture and Qiming Venture funds. That round effectively valued Xiaomi at an astonishing $200 million, which was a lot for a firm with – at the time – just a few apps and an Android ROM.
The apparent ease of attracting funding might be best explained by CEO Mr Lei being a co-founder of Joyo, which sold to Amazon back in 2004.
[Source: Tech.QQ.com]