It's not just buyers of the China-made Xiaomi phones – of which there were over seven million in 2012 – who get to use its pretty Android interface. That's because Xiaomi's MIUI skin can be installed on a variety of other devices. Today the company is celebrating having just over 10 million MIUI users around the world with the launch of a 'MIUI Love' theme (pictured above) – and for everyone who downloads the free theme, Xiaomi will donate one Chinese cent to the Smile Angel Foundation.
That's a charity based in Beijing which helps low-income families with children born with a cleft lip and palate. So for every 10,000 downloads of the theme, 1,000 RMB (US$160) [UPDATED: My math sucks; corrected those numbers] will be going to that good cause. The very pink MIUI Love is here in the Xiaomi App Market, and has been downloaded over 30,000 times in just a few hours.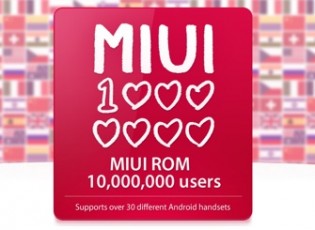 MIUI was created in 2010, currently supports being flashed onto 30 different Android handsets, and has now 17 fan sites around the world from which Android tinkerers can download unofficial versions of the Android 4.1 ROM in lots of different languages. Or,if you'd like to have the MIUI stylings on your phone without going through with the rather tricky flashing of a new ROM, there's always the Xiaomi-made MiHome Launcher.
When we talked to Xiaomi founder Lei Jun a few months ago, he identified its MIUI ROM – built on top of the very open Android platform – as one of the three main building blocks in the success of his company. The phone-maker – which only began making smartphones in the summer of 2011 – is now valued at $4 billion, which is nearly as much as BlackBerry maker, RIM.
Xiaomi aims to sell 10 million phones in 2013, and will launch in Hong Kong and Taiwan pretty soon, the company tells us. But fans of Xiaomi worldwide will have to wait a bit longer to be able to get their hands on the phone via an official channel, as the Beijing-based company might launch in North America in 2014 or 2015.