Xiaomi's flagship phone, the Mi3, was revealed last September and started shipping in October. But it appears the Chinese phone-maker is speeding up its annual cycle for the next flagship – that's because Xiaomi founder Lei Jun today teased the launch of the '4', presumably the successor to the Mi3, on July 22.
The accompanying image in Lei's Weibo post (hat-tip to The Next Web's Jon Russell for spotting this) explains that the mysterious '4' gadget (possibly to be dubbed the Mi4) will be made of a "single block of metal". There are no more details at present.
The metal reference suggests Xiaomi is aiming at better quality for its flagship phone, despite an affordable price-tag that will likely be around RMB 2,000 (US$320). The current Mi3 has been described as "disappointingly plasticky" and flimsy.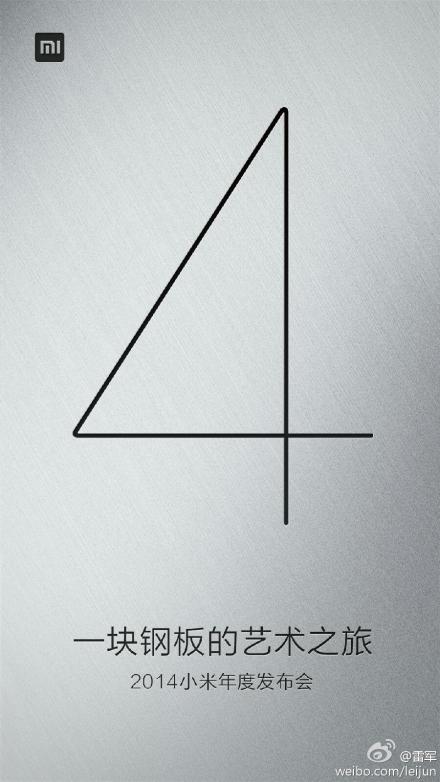 See: 15 new Asian smartphone makers hoping to crush Samsung and Apple
Xiaomi sold 10 million Mi3 smartphones in the nine months since its release, Lei Jun said last week. The phone-maker reached a total 26.1 million phone sales in the first six months of 2014 – which is greater than the 18.7 million it sold in 2013. The 2014 target is 60 million.
The Xiaomi Mi4 – or whatever it'll be called – needs to be good enough to power the upstart gadget brand to a target of 100 million phone sales in 2015 – and drive it into new markets around the world.
Drop into Tech in Asia on the afternoon of July 22 for coverage of the launch.