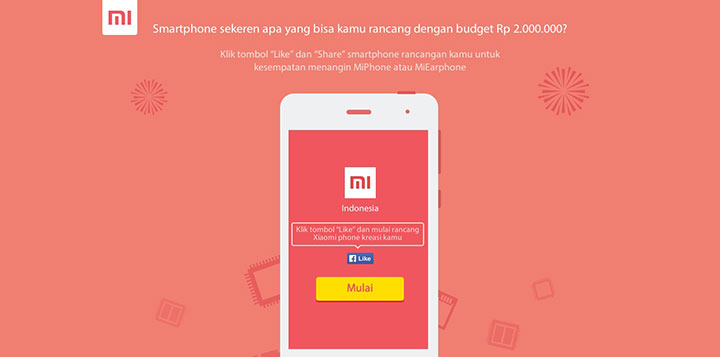 For the past few weeks, Xiaomi has been teasing its fans about which is the next country it will enter. Today we know the answer: Indonesia.
Xiaomi's Indonesia website is now up, and its Indonesia Facebook account has also started. It means the Android handset manufacturer has officially entered the country, but there's not yet a launch date for any of its gadgets.
The Xiaomi Indonesia website poses one question to visitors: what cool smartphone can you design with a budget of only IDR 2 million (US$171)? The website then lets you decide the smartphone's specifications, like screen size, RAM, processor, camera, and battery power based on its price.
See: Xiaomi leaps over Samsung, is now China's biggest smartphone brand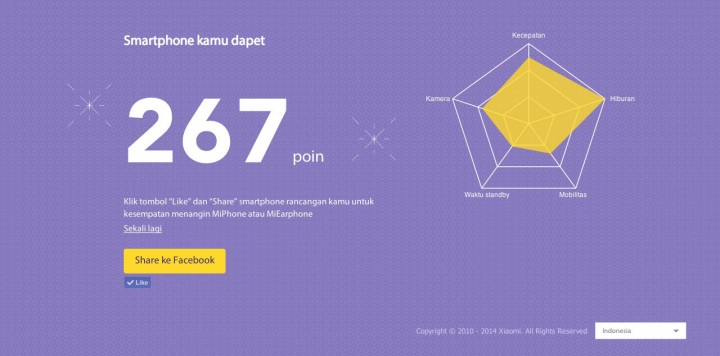 At the end, the new Xiaomi minisite will score your design. It then lets you know your priority when choosing a smartphone like mobility, fun, camera, or speed (pictured above). The site also promises visitors that they can win a phone (model not specified) or earphones if they like the new Xiaomi Indonesia Facebook account.
That price-tag of IDR 2 million (US$171) suggests Xiaomi is bringing the Redmi Note to Indonesia, not the flagship Mi 3. The Redmi Note sells for RMB 999 in China, which is IDR 1.9 million (US$162).
Xiaomi's thunder may have been stolen by local estore Blibli, which is now selling two Xiaomi phones, the Redmi Note and the Mi 3. However, both phones are sold at a steep markup of IDR 3 million ($256) and IDR 4 million ($341) respectively. A Xiaomi representative tells Tech in Asia that they try to peg the phone's price to be as close to the China price as possible, though prices might differ slightly in each market because of things like local taxes.