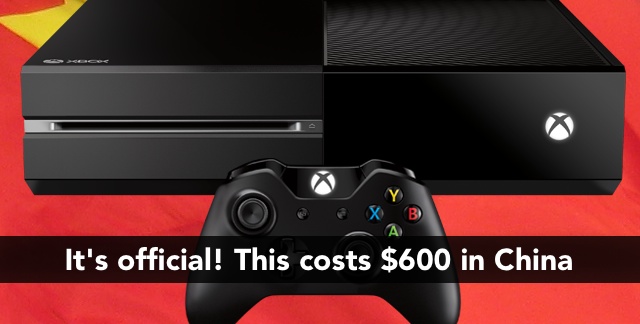 Finally, after all kinds of rumors about the Xbox One's official price in China, Microsoft (NASDAQ:MSFT) has made an official announcement. The console's price will start at RMB 3699, or US$600, in China without Kinect, or RMB 4,299 (US$700) with Kinect. It's not as low a price-tag as most gamers were hoping for. The Xbox One will launch officially in China on September 23.
It's the first foreign games console to go on sale in China after the repealing of a ban on consoles in the country.
The Xbox One does come with a couple of "free" games: Neverwinter Online and Powerstar Golf, although both games are free-to-play in other regions already, so this doesn't represent particularly enticing value. It also comes with a free Xbox Live Gold subscription, which is good through March 2015. After that, the service will cost RMB 199, or about US$32 (though it's not clear how long a subscription that'll buy you).
It does sound like Chinese gamers will be getting a break on the games, though. Games will be priced from RMB 99 to RMB 249 ($16-$40), meaning they'll be significantly cheaper than new games in most other regions. And speaking of games from other regions, some of Microsoft's partners are advertising that the Chinese Xbox One isn't region-locked and will be able to play games from other regions, although that isn't something Microsoft has yet confirmed.
See: Sony finds Chinese partner to make PlayStation consoles in China
And how do China's gamers feel about the price? Surprisingly, the reaction seems to be somewhat positive. Although it's higher than many hoped, the reports that it won't be region-locked have pleased a lot of people, and on this story about the pricing (for example), the most popular of the 8,000-plus comments that have been left there already reads:
Upvote this comment if you can accept the launch price.
Your move, Sony!
(Via Netease Games)
---
This is cross-posted from our sister site, Games in Asia